WASHINGTON (Sputnik) — The US Department of Defense has told Turkish authorities about its concerns over the country's purchase of the Russian S-400 surface-to-air missile systems, Pentagon spokesman Johnny Michael told Sputnik on Tuesday.
"We have relayed our concerns to Turkish officials regarding the potential purchase of the S-400," Michael said. "A NATO interoperable missile defense system remains the best option to defend Turkey from the full range of threats in its region."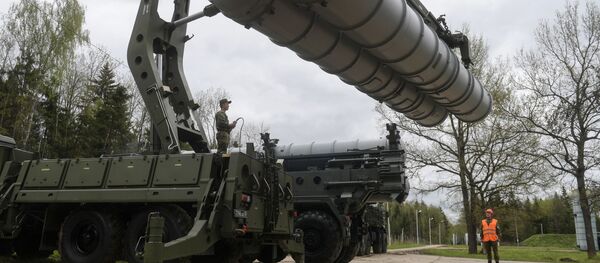 The Pentagon added that the US is committed to speedy delivery of military equipment to Turkey in light of Ankara's signing of a S-400 delivery contract with Moscow.
"Turkey continues to pursue anti-missile systems from NATO Allies, including the US, for its broader, long-term missile defense needs. The United States is committed to expediting the delivery of equipment purchased by Turkey, when possible," Michael said.
The Pentagon's comment comes as Turkish President Recep Tayyip Erdogan said earlier in the day that Ankara had made the first payment for the Russian S-400 systems.
When asked whether Turkey's membership in NATO would become an obstacle to S-400 deliveries, the Kremlin aide said earlier that "each party undertakes commitments determining what it has the right to do with the delivered weapons, and what it cannot do."
The S-400 is Russia's next-generation air defense system. It carries three different types of missiles capable of destroying aerial targets at short-to-extremely-long ranges. It is designed to track and destroy various types of aerial targets, from reconnaissance aircraft to ballistic missiles.
© Sputnik
The S-400 Triumf Mobile Multiple Anti-Aircraft Missile System (AAMS)

The S-400 Triumf Mobile Multiple Anti-Aircraft Missile System (AAMS)