SOCHI (Sputnik) — The Central Bank of Russia sees risks in the use of cryptocurrencies and is against equalizing them with foreign currencies, the bank's head Elvira Nabiullina said Thursday.
"We are categorically opposed to introducing cryptocurrencies in regulation as a monetary asset, an asset used to pay for goods and services, are against equating it with foreign currencies, because […] there is foreign currency, there are states that produce it, there are economies and central banks that are behind it. The phenomenon [of cryptocurrency] is less understandable here," Nabiullina said at a forum.
"We see the risks in introducing cryptocurrency into the legal circulation, because this can additionally support interest to use cryptocurrencies," she said.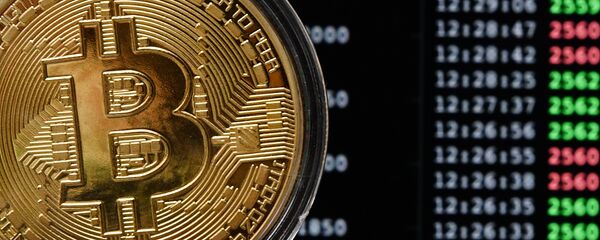 13 September 2017, 13:28 GMT
Nabiullina added that the current mechanism for using cryptocurrencies had signs of a pyramid scheme.
The Russian Central Bank's head statement comes as Bitcoin's price has skyrocketed by more than 5 million times since its first appearance eight years ago. Bitcoin is currently seen as a good investment by many speculators, as it possesses advantages, including decentralization, non-duplication, and low processing fees. However, many countries and investors voice concerns over Bitcoin. According to JPMorgan chief executive Jamie Dimon, the most popular cryptocurrency is a "fraud" and "a currency made of thin air."
The Russian government is set to start the consideration of a bill aimed at regulation of cryptocurrencies in the country soon. Moreover, several  high-ranking officials have proposed to create Russia's own cryptocurrency in order to replace Bitcoin, however, the initiatives haven't been welcomed by the Central Bank yet.
Digital currencies, also known as cryptocurrencies, have no material form and global currency regulation does not currently apply to them. An unlimited number of anonymous sources can issue and use such currencies. Central banks worldwide have treated the phenomenon with caution, although some have started exploring the possibilities it offers and even developing their own cryptocurrency.