According to a statement from the Marine Corps, the Marines were involved in a scheduled land-based combat readiness evaluation when at approximately 9:33 a.m. local time their amphibious assault vehicle caught fire.
Though all service members were able to escape from the fire-engulfed vehicle, all 15 members sustained injuries.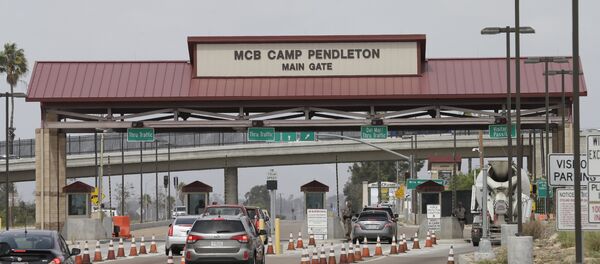 13 September 2017, 19:51 GMT
Eight of the Marines were directed to the Burn Center at the University of California San Diego Health center, while four others were sent to UC's Irvine Medical Center. From the 12, five Marines were deemed in critical condition, five in serious condition, and two others were receiving treatment for an "unknown medical condition."
From the remaining three, one who is now in stable condition was taken to Scripps Memorial Hospital La Jolla, while the two others, who sustained minor injuries, were treated at the naval hospital at the base.
The injured 15 Marines came from the 1st Battalion, 1st Marine Regiment and 3rd Assault Amphibian Battalion.
"The 1st Marine Division would like to thank the civilian and military emergency personnel who responded immediately to the situation and allowed the injured Marines to receive rapid care," 1st Lt. Paul Gainey, a spokesperson for the 1st Division, said in a statement late Wednesday. "Our thoughts and prayers are with the Marines and their families affected by this incident."
The statement also indicated the vehicle involved in the fiery accident was a sea to land transport that the US military has used since the 1970s. Currently unknown, officials have launched an investigation to pinpoint the cause of the blaze.
Back in July, 15 other Marines were killed, along with one sailor, after a KC-130T Hercules Transport aircraft crashed in Mississippi.