US Defense Secretary James Mattis made a secretive visit to America's nuclear base in North Dakota Thursday to ensure the maintenance of the military's many nuclear weapons in the event they are ever needed by the president for use on the Korean Peninsula, Stars and Stripes reports.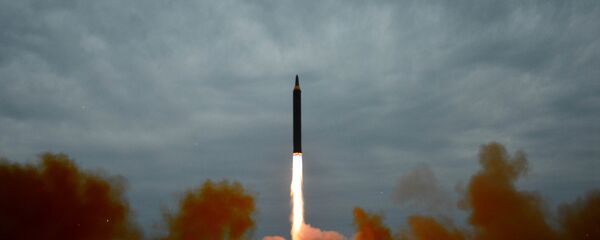 11 September 2017, 22:15 GMT
Mattis would not allow reporters to watch as he met with US forces at the Minot Air Force Base, where 150 ICBMs equipped with nuclear weapons stand ready to launch at a moment's notice. Mattis also was in Omaha, Nebraska Thursday to meet with USAF Gen. John E. Hyten, chief of US Strategic Command, where the Pentagon chief received a classified briefing, Stars and Stripes noted.
Mattis said he has considered reworking the current nuclear posture known as the triad: nukes launched from USAF jets, US navy submarines, or the ground. "You want the enemy to look at it and say, this impossible to take out in a first strike," Mattis told reporters.
One such enemy that has threatened nuclear war with the US is of course North Korea. According to 38 North, a website specializing in analysis of the Korean Peninsula, "imagery from September 8 also show a large tractor/trailer cargo truck in the South Portal Area for the first time, and mining carts and other equipment are present outside the West Portal," at the Punggye-ri nuclear test site.
"Such activity … suggests that onsite work could now be changing focus to further prepare those other portals for future underground nuclear testing," the researchers wrote September 12.