In a conversation with Sputnik, Ataş underscored that the deal between Russia and Ankara came as a result of their longtime bilateral cooperation, especially in security and defense.
The analyst said that the United States and NATO's concerns over the deal are groundless and Turkey was not the first alliance member to buy a Russian-made missile and air defense system.
"For example, Greece operated Russian missile defense systems. Their criticism is baseless. NATO is expected to help its members if they have security issues. As for Turkey, NATO didn't give a hand to Turkey. Turkey has long been in need for a missile defense system. Ankara initially considered buying the US-made Patriot and then a Chinese system, but the plan didn't work out. Finally, Turkey set its eyes on the S-400 as an alternative," Ataş said.

The Russia-Turkey talks on the delivery of S-400 systems started last year. On Tuesday, the Russian Federal Service for Military-Technical Cooperation said in a statement that Moscow and Ankara had reached an agreement on the issue. In turn, Turkish President Recep Tayyip Erdogan said that Ankara had made the first payment for the delivery. In turn, the
Pentagon expressed concern
over the issue, saying that a NATO interoperable missile defense system would be the "best option" for Turkey.
As the S-400 deal may raise questions about Turkey's future cooperation with its NATO allies, Ataş said that there would be no divorce between Ankara and the military bloc.
"Of course, there will be some tensions in the beginning, but they will soon be settled. Turkey is the NATO's gateway to Asia. In security terms, Turkey and NATO need each other," he underscored.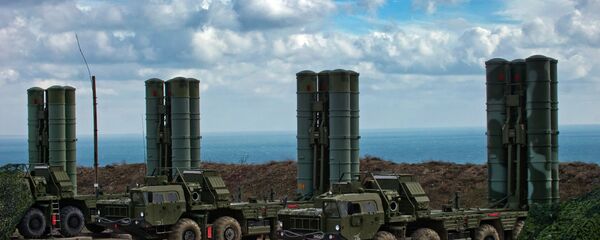 Commenting further on Ankara's relations with the alliance, Ataş said that there is some kind of "minor misbalance," but Russia is not considered as an "alternative to NATO."
"Turkey made the decision to buy the S-400 based on its national security concerns. But this decision is not directed against NATO," the expert summarized.
The S-400 Triumph is a next-generation mobile surface-to-air missile system that can carry three different types of missiles capable of destroying aerial targets at a short-to-extremely-long range. It is designed to track and destroy various types of aerial targets, from reconnaissance aircraft to ballistic missiles.
© Sputnik
The S-400 Triumf Mobile Multiple Anti-Aircraft Missile System (AAMS)

The S-400 Triumf Mobile Multiple Anti-Aircraft Missile System (AAMS)