The vessel Ocean Ambitious docked in Odessa's Yuzhny port on Wednesday with 62,000 tons of anthracite "intended for energy production," the local authorities said. They added that another four ships were scheduled to arrive, with a total load of 295,000 thousand tons to be delivered.
In an interview with Sputnik, Igor Yushkov, an energy security expert at Moscow's Financial Institute, said that Kiev's decision to buy expensive coal from the US could have been prompted by Washington's promise of new loans from international money lenders.

13 September 2017, 14:10 GMT
"In the long haul, this deal will bleed Ukraine white making it dependent on creditors who are often called 'economic killers.' Firstly, some 'consultants' will come out of the woodwork advising the government to implement all kinds of reforms using loans from the IMF and other financial institutions. The government takes out a loan and is hard put even to pay the interest on it, let alone paying the principal back. This is exactly what is now happening to Ukraine," Yushkov said.
The first batch of American coal delivered to Odessa is priced at $113 per ton compared to just $80 for a similar amount of coal from Russia or even less from Donbass.
After refusing to buy coal from the self-proclaimed Donetsk and Lugansk People's Republics in Donbass, Kiev started looking for alternative suppliers.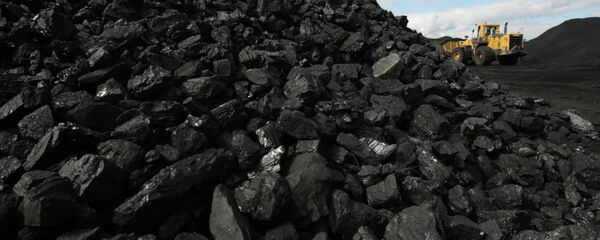 25 August 2017, 11:50 GMT
It had alternatives to buy anthracite in Russia, South Africa or the United States.
Coal from Russia was nixed for political reasons, while imports of South African coal turned out to be too expensive.
Igor Yushkov said that the Americans tell Kiev to buy coal or just about anything else in the US. Kiev buys the coal and the Americans arrange new loans.
Unable to pay them back, Ukraine will start selling state assets to government-affiliated private US companies.
"As a result, almost all of the country's economically viable assets will end up in foreign hands and the state budget will fall through," Yushkov concluded.
In August, Ukrainian state-owned energy firm Centrenergo signed a contract with America's Xcoal Energy & Resources to supply 700,000 tons of coal to Ukraine this year.
According to the deal, the US firm will be sending a ship or two each month till the end of the year. Kiev hopes that this will help it get through the 2017-2018 heating season.