BRUSSELS (Sputnik) — European Commission calls on all parties to the political process in Catalonia to respect the constitutional norms of Spain, the Commission's First Vice-President Frans Timmermans said on Friday.
On Thursday, EU Commission President Jean-Claude Juncker said that in the event Catalonia gains independence, it would not be able to become an EU member state immediately after the referendum and would have to follow the same accession process to be admitted to the European Union as those countries that had entered the bloc since 2004.
"He [Juncker] stated very clearly, as have his predecessors [Jose Manuel] Barroso and [Romano] Prodi, that we refer to the constitutional order in Spain and the respect for the Spanish Constitution in this matter, so there can be no misunderstanding there," Timmermans told reporters.
Matters of referendums are "matters pertaining to member states themselves," but in terms of the relationship with the European Union and within the framework of the rule of law, all political actors in all EU member states should "respect the constitutional order of the member state they are part of," the vice-president added.
"We respect … the constitutions of the member states. And if within these constitutions new realities are created, then that becomes a new reality for the European commission, and we will act on that basis," Timmermans stressed.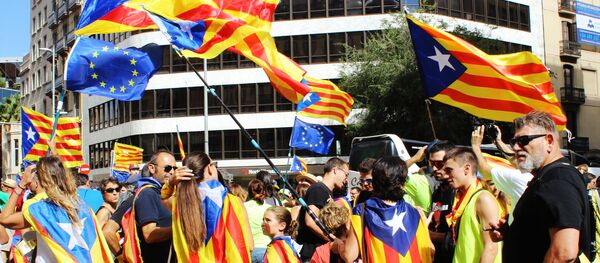 14 September 2017, 13:39 GMT
On September 6, Catalonia's parliament voted in favor of a law on the transition to independence that regulates the region's exit from Spain, the parliamentary speaker said. The legislation was backed by 71 lawmakers, with ten votes against and no abstentions.
Catalonia has been seeking independence from Spain for years. On November 9, 2014, about 80 percent of the Catalans who took part in a non-binding referendum on the region's status as part of Spain voted in favor of Catalonia becoming an independent state.
The vote was, however, ruled unconstitutional by the authorities in Madrid.
On June 9, the president of the autonomous region, Carles Puigdemont, said that Catalonia would hold a unilateral referendum on independence on October 1, 2017, prompting criticism from Madrid.