New Delhi (Sputnik) — Contrary to speculations, Japan has once again failed to break into India's weapons market as it could not seal the long pending deal on selling its US-2 amphibian aircraft to the world's biggest arms importer despite Prime Minister Shinzo Abe making a strong pitch during his just concluded visit.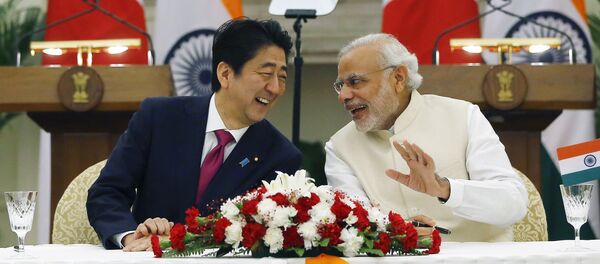 15 September 2017, 09:03 GMT
During the just-concluded India-Japan 10th annual summit, Japanese Prime Minister Shinzo Abe & Indian Prime Minister Narendra Modi discussed the deal but failed to arrive at a decision. Nevertheless, both the leaders appreciate the commencement of the technical discussion for the future research collaboration in the area of Unmanned Ground Vehicles and Robotics.
Indian foreign secretary S Jaishankar told the media that "serious negotiations" were held with Japan regarding the purchase of the amphibious aircraft.
"Japan's readiness to provide its state-of-the-art US-2 amphibian aircraft was appreciated as symbolizing the high degree of trust between the two countries. The two governments decided to continue their discussions in this regard," the India-Japan joint statement read.
Japanese Prime Minister's Shinzo Abe's visit was preceded with speculations in the Indian media that the long-pending bilateral deal on ShinMaywa would be concluded this time as Japan had agreed to cut down prices by at least 10 percent and that the final deal would come around to $1.3 billion. However, that did not happen.
Indian Prime Minister Narendra Modi had signed an initial agreement to start negotiations for acquiring the Japanese US-2 amphibian aircraft during his visit to the country in 2014. Before that, the Indian Navy and Indian Coast Guard had taken a keen interest in this aircraft due to its range of 4500 Km but the high cost and Japan's rigid stance against sharing critical technology forced India to look towards other options.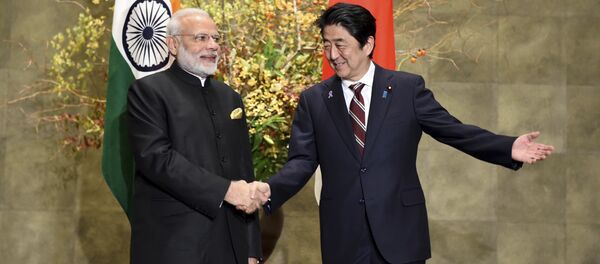 13 September 2017, 21:59 GMT
While Japan has offered a direct sale, the Narendra Modi-led Indian government wants to produce 18 more such planes in India in line with Indian "Make in India" initiative apart from buying some of them off-the-shelf.
The protracted negotiations between India and Japan are a result of their enduring joint efforts to reach a common ground with regard to technology transfer, and the related financial costs. While India seeks technology transfer in consonance with its national policy of 'Make in India', Japan is the view — and possibly, rightly so — that the proposition is not commercially viable as the number of aircraft in question is relatively small. However, it is my belief that overriding geopolitical considerations would persuade both sides towards a via media, sooner rather than later." Captain of Indian Navy and Executive Director, National Maritime Foundation, Gurpreet Khurana told Sputnik.
The deal, if concluded, would have represented Japan's first defense export since it lifted its decades-long self-imposed ban on defense exports in 2014.