With such severe charges levied against the force in such short order, the decision was made to fire the entire police force of Caloocan, a city in the Manila metropolitan area. Manila police chief Oscar Albayalde said in a statement that the corrupt and criminal officers will be rooted out, while the innocent officers will be retrained and reassigned. A total of 62 officers have been relieved permanently, with the others to be retrained.
Albayalde said that the releases would be "done in batches" and in the interim, a public safety battalion (the Philippine equivalent to SWAT) will act as the city's police force. "The reshuffle is a drastic measure but we have to do this to keep them away from their sphere of influence and prevent them from involvement in criminal activities in the future," Albayalde said. "It is not farfetched that they would follow the bad example of those involved in the killings and other illegal activities."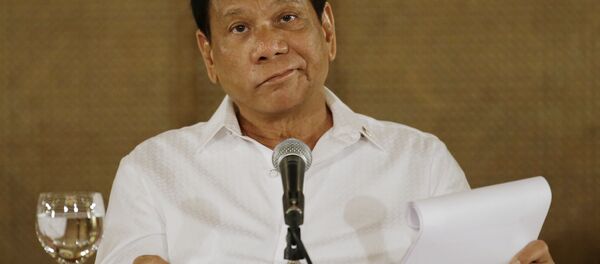 28 August 2017, 13:56 GMT
The nation's department of justice has been investigating a series of shocking allegations against the Caloocan police force. In August, 17-year-old Kian Delos Santos was killed during an anti-drug raid, and his parents have alleged that four officers tortured and murdered him.
Police claimed that Delos Santos was a drug dealer who opened fire on police, forcing them to shoot him down. However, his family and eyewitnesses claim that the high school student pled for his life as police dragged him away. 
On the day of Delos Santos' death, footage surfaced of the police dragging a man out of a building before shots rang out. Witnesses claim that the man being dragged was Delos Santos, a claim the police deny. Delos Santos was found shot in the head, with a pistol in his left hand despite being right-handed.
The parents of two other teenagers, 19-year-old Carl Angelo Arnaiz and 14-year-old Reynaldo de Guzman, have accused the police of torturing and murdering their sons, and then hiding evidence that would implicate them. Police claimed that Arnaiz was killed in a shootout with the cops after robbing a taxi driver, but a Manila forensic expert says that Arnaiz's corpse shows that he was handcuffed, tortured, and then shot five times.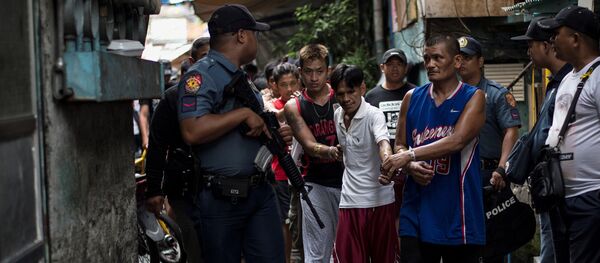 16 August 2017, 12:01 GMT
De Guzman, a friend of Arnaiz, was found floating in a creek. He had been stabbed 28 times.
Earlier in September, CCTV footage surfaced online of what appeared to be 13 cops robbing a house during a drug raid.
The announcement was met with praise by figures such as the Bishop of Caloocan Pablo Virgilio David. "This is the only way the [Philippine National Police] can protect the integrity of the whole police institution: by disciplining their own ranks and following only just and lawful orders from their superiors," David said.