MOSCOW (Sputnik) — According to the statement, a total of 54 persons laid down their arms and joined the government troops.
The news comes after a local source said that the group of militants from the internationally-condemned terrorist organization Daesh surrendered to Syrian government forces in Deir ez-Zor in the east of the country.
Russia continues its efforts to facilitate the implementation of the ceasefire regime in Syria, with Russian military police units paving the way for stabilization in the country, the ministry said.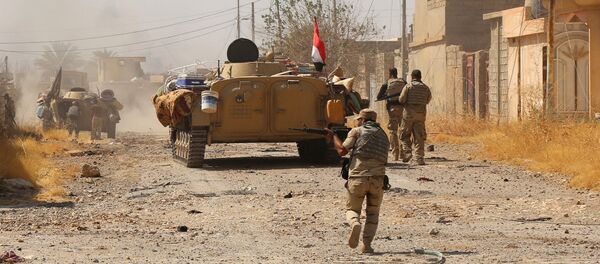 16 September 2017, 14:34 GMT
The statement added that the Russian center for reconciliation supplied humanitarian aid to the civilian population affected by the conflict, as well as facilitated the efforts to restore the social infrastructure of the country.
Syria has been engulfed in a civil war between the government forces and various opposition and militants groups since 2011. The international community has taken a number of actions aimed at the conflict settlement through talks on various platforms including those in Geneva and Astana. During Astana talks, the sides of the conflict agreed to establish four de-escalation zones in Syria, with Iran, Turkey, and Russia acting as guarantor states of the ceasefire regime.