KIEV (Sputnik) — Ukraine's draft budget for 2018 stipulates allocating 164.9 billion hryvhas ($6.34 billion) to the defense and security sector, which is a 14.8 percent increase compared to 2017, Ukrainian Prime Minister Volodymyr Groysman said Friday.
"The defense budget will increase — 164.9 billion hryvhas will be allocated in 2018. This is the salary of our soldiers, high-quality technical equipment and armament," Groysman said, when presenting the draft state budget at the cabinet meeting.
He noted that the government had allocated 143.6 billion hryvhas ($5.5 billion) to the defense needs this year.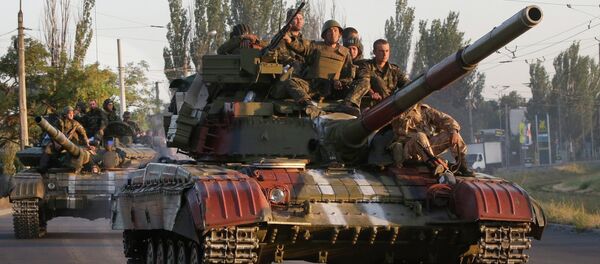 In late August, Ukrainian Secretary of the National Security and Defense Council Oleksandr Turchynov said that Ukraine
will keep its defense spending at the level of no less then 5 percent of GDP
, adding that the defense budget will be approved at the National Security and Defense Council's meeting in early September.
Defense budgets of other European countries account for less than 5 percent of GDP. Among NATO members in Europe only several countries even reach the target of 2 percent that the US proclaims.