PETROPAVLOVSK-KAMCHATSKY (Russia) (Sputnik) – A 5.6-magnitude earthquake hit on Sunday the Avacha Bay near the Kamchatka Peninsula in the Russian Far East, local department of the Russian Emergencies Ministry said in a statement.
"According to the data obtained by the Petropavlovsk seismological station, the seismological event occurred at 9:00 a.m. local time [21:00 on Saturday GMT] in the Avacha Bay. The epicenter of the earthquake was located at a depth of 72 kilometers [about 45 miles] … The magnitude of the seismological event amounted to 5.6. The seismological event was felt in some parts of Petropavlovsk-Kamchatsky as tremors with up to 3.0-magnitude," the statement said.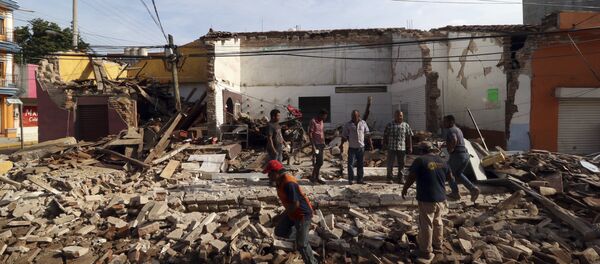 11 September 2017, 02:30 GMT
The epicenter was located 72 kilometers east of Petropavlovsk-Kamchatsky.
"The tsunami alert was not declared," the statement said.
The Kamchatka Peninsula is located in a zone of volcanic and geothermal activity and contains 68 active volcanoes. The region is the part of the so-called "Ring of Fire" — a string of volcanoes encircling the Pacific Ocean.