MOSCOW (Sputnik) — The Syrian government troops and their allies liberated two southeastern districts of the city of Deir ez-Zor from Daesh terror group and reached the Euphrates river, a source in the operation headquarters told Sputnik on Sunday.
"The army reached the Euphrates, having liberated [two] districts… On the east side, the militants were forced to retreat from the airbase at a distance of more than five kilometers [over three miles]," the source said.
According to the source, the terrorists retreated to the city of Al Mayadin while some of them crossed the Euphrates and sheltered in the northern part of Deir ez-Zor.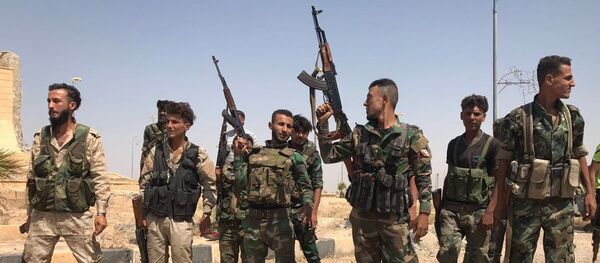 16 September 2017, 06:48 GMT
Although last week
the three-year Daesh siege of the city of Deir ez-Zor was broken
the fighting to fully liberate the area is still underway.
The successful Deir ez-Zor operation was the biggest breakthrough against Daesh since the terrorist group first launched an offensive in the province. The terrorists had been blockading Deir ez-Zor since 2014, with food and other supplies only being airlifted into the city. The group also took control over a large swath of the province of Deir ez-Zor and cut off roads to government-held districts.