Commenting on Israel's "neutral" status in the Syrian conflict in an interview with Sputnik, a Russian political commentator pointed to the fact that "from the very beginning of the war in Syria, Israel announced 'the red lines', which will ensure the security of the Jewish state."
"No doubt, Israel has been a major player in the Middle East over the past 70 years, with [national] security being one of the top priorities of Israel's policy. Tel Aviv, using various methods and means, sought to monitor the situation in the region. Although such a policy was not always a success, Tel Aviv always kept a close eye on its immediate neighbors," Vladimir Sazhin said.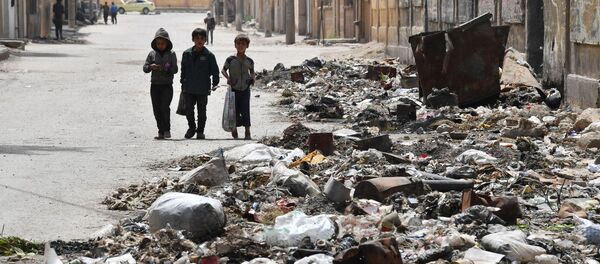 26 August 2017, 14:53 GMT
He recalled that with the beginning of the civil war in Syria in 2011 and the involvement of a significant number of external forces in it, Israel moved away from its original position of non-interference. 
According to Sazhin, at first, it was difficult for observers to understand the position of Tel Aviv.
He said that "on the one hand, Syrian President Bashar Assad's policy was in line with Israel's interests, especially in the face of the hypothetical victory of the Daesh terrorist group which, like all extremist Islamist movements, did not recognize even the possibility of the existence of a Jewish state.
"On the other hand, the activity of the main Israeli enemies — Iran and Hezbollah — in supporting Bashar Assad prompted Tel Aviv to oppose Damascus," Sazhin said.
While continuing its official policy of neutrality, Israel at the same time defined the "red lines" related to its non-interference in the Syrian conflict, which first of all included the inadmissibility of the presence and activities of Iran's armed forces and Hezbollah in Syria and near the Israeli border.
"The Israeli Defense Forces hasconducted dozens of actions on Syrian territory aimed at ensuring compliance with Tel Aviv's "red lines," Sazhin added.
He suggested that "perhaps, the Israeli game in and around Syria is more subtle, especially now that the situation in Syria shifts to a political and diplomatic field rather than a military one."
"High on the agenda is Syria's future without Daesh but with the participation of many countries that would like to have influence in this Arab country. This "excites" Israel, which under no circumstances would want the presence of Iran, its armed forces and the factions sponsored by it, first of all, Hezbollah, [in Syria]," Sazhin said.
In this vein, he quoted Israeli Defense Minister Avigdor Lieberman as saying Israel will try its hardest to prevent the creation of a "Shiite corridor" from Tehran to Damascus.
"Some observers described this statement as the threat of declaring a war," Sazhin said.
According to him, understanding that Russia and the United States remain the main military and political actors in the Syrian theater of war, Israel stepped up its political and diplomatic activities in Moscow and Washington.
Sazhin referred to Israeli Prime Minister Benjamin Netanyahu's visit to Russia on August 23, during which Netanyahu expressed concern over Iran boosting its clout in Syria.
"Probably, the main purpose of Netanyahu's visit to Moscow was to confirm the alliance between Israel and Russia and to focus on countering any attempts by Iran to gain a foothold in Syria. Later on, Netanyahu stressed that Israel and Russia are working on the maximum possible coordination of their strategic intentions," Sazhin said.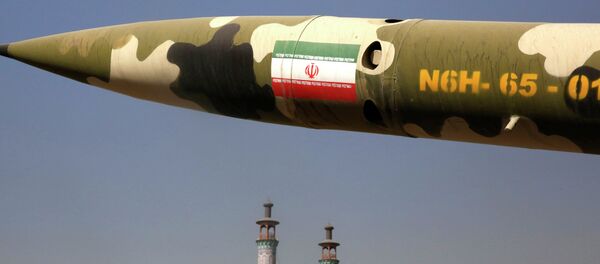 He noted that Russian President Vladimir Putin, for his part, praised Netanyahu for his friendship and cooperation with Russia, describing the bilateral collaboration mechanism as very effective. Putin stressed that Russia is satisfied with the development of bilateral relations.
In a separate development, Mossad chief Yossi Cohen and military intelligence head Herzi Halevi visited Washington earlier in August to urge their American counterparts to interfere with the program on deploying Lebanese, Syrian and Iranian Shiites in the Golan Heights.
In late August, Netanyahu met with US President Donald Trump's son-in-law and senior adviser Jared Kushner to discuss the situation in Syria.
In early September, Israeli President Reuven Rivlin visited Germany, where he met Chancellor Angela Merkel to express Tel Aviv's alarm over the strengthening of the Iran-Shiite axis in Syria and Lebanon. Rivlin called Iran the main destabilizing factor in the region.
"Thus, even the brief analysis of Israel's political and diplomatic activity shows that Tel Aviv is shaping global public opinion, especially in respect to the major players, for Israel's response to Iran expanding its Syrian clout," Sazhin said.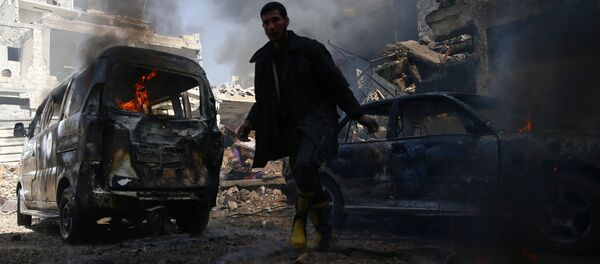 In this regard, he quoted
Wall Street Journal
(WSJ) journalists as saying that confrontation between Israel and Iran is growing as the war against Daesh in Syria and Iraq comes to a close.
According to the WSJ, Iran is using the Syrian war as an excuse to create a permanent military presence in Syria that allows Tehran to threaten Israel directly or through its intermediaries in Syria and Lebanon.
Quoting WSJ as saying that the danger of indirect or even direct war between Iran and Israel is growing, Sazhin said that talking of any "neutrality" of Israel in the Syrian conflict is a mistake.