MOSCOW (Sputnik) — The Russian Defense Ministry said it successfully launched a missile from an upgraded Iskander-M short-range ballistic missile system to a maximum operational distance.
"The missile flew the distance of 480 kilometers [some 300 miles] and successfully hit a designated target at the Makat testing range [Kazakstan]," the statement said.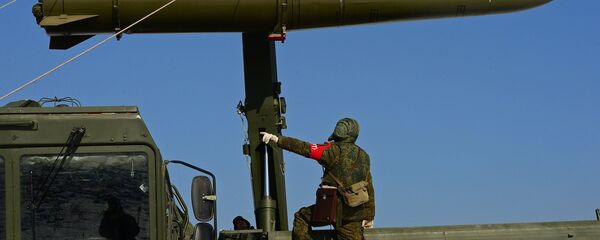 14 September 2017, 15:14 GMT
The Iskander-M is
one of Russia's newest high-precision weapons
, introduced into the Russian military beginning in 2006. Its supersonic, guided nuclear-capable missiles, ranged at 415-500km, can be independently targeted in seconds, and are fully controlled at every stage of their flight path. The Russian military plans to equip all missile units of the Ground Forces with Iskander-Ms by 2020.
At present, the supply of Iskander-M brigade-size sets to the Russian army is being completed, under a contract signed with the Defense Ministry in 2011 (the whole agreement provides for the supply of 10 brigade sets).