On Tuesday, CNN broke the news that the FBI had secured a wiretap on Manafort's phone under the Foreign Intelligence Surveillance Act (FISA.) The investigation began in 2014 following allegations that Manafort was operating as a foreign agent in his capacity as a campaign adviser to Ukrainian president Viktor Yanukovych. The wiretap paused in 2016, and resumed in 2017 under new allegations of Manafort's ties to Russian intelligence. Eventually, the FBI ended the wiretapping for a lack of evidence. 
If the reports are true, then a felony has been committed — but not by Manafort. According to Jason Maloni, a spokesman for the former lobbyist and Trump presidential campaign manager, "it is a felony to reveal the existence of a FISA warrant, regardless of the fact that no charges ever emerged. The US Department of Justice's Inspector General should immediately conduct an investigation into these leaks and to examine the motivations behind a previous Administration's effort to surveil a political opponent."
"Mr. Manafort requests that the Department of Justice release any intercepts involving him and any non-Americans so interested parties can come to the same conclusion as the DOJ — there is nothing there."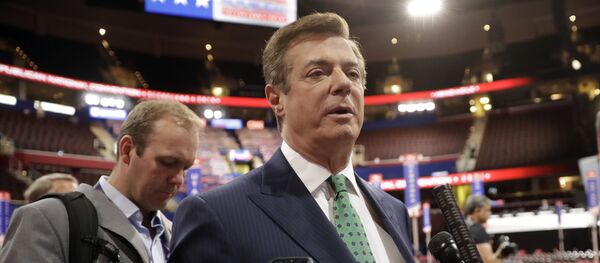 19 September 2017, 11:21 GMT
Manafort has denied the charges that he "knowingly" communicated with Russian intelligence operatives during the election. He denies any participation in efforts to "undermine the interests of the United States."
FISA warrants aren't easy to secure. As former FBI agent Asha Rangappa told Public Radio International, "what the FBI has to do is go into a secret FISA court and show the judge that there's probable cause to believe that the person they are targeting is acting as what's called 'an agent of a foreign power,' that they're acting at the direction and control of a foreign intelligence service in this case."
Robert Mueller, the Department of Justice Special Counsel in charge of investigating the alleged ties between Russia and the Trump campaign team, has been undertaking what the New York Times called a "shock and awe" strategy in his investigation, utilizing tactics like dramatic nighttime raids on Manafort's residence and impaneling a grand jury to indict Manafort.

31 August 2017, 03:51 GMT
"Mr. Mueller has obtained a flurry of subpoenas to compel witnesses to testify before a grand jury, lawyers and witnesses say, sometimes before his prosecutors have taken the customary first step of interviewing them. One witness was called before the grand jury less than a month after his name surfaced in news accounts. The special counsel even took the unusual step of obtaining a subpoena for one of Mr. Manafort's former lawyers, claiming an exception to the rule that shields attorney-client discussions from scrutiny," The Times reported.
"It's important early on to strike terror in the hearts of people in Washington," one attorney told the Times, in reference to Mueller's probe.