MOSCOW (Sputnik) — Rohingya refugees are fleeing to Bangladesh in thousands to escape violence in Myanmar, many of them having lost family members and facing uncertainty upon arrival, with the only hope to survive, representatives of humanitarian agencies told Sputnik.
Camps in Bangladesh
A violent crackdown by Myanmar security forces came as retaliation for attacks carried out by Rohingya insurgents in late August and resulted in many civilians being caught in the crossfire, with many of them forced to flee to neighboring Bangladesh and other countries.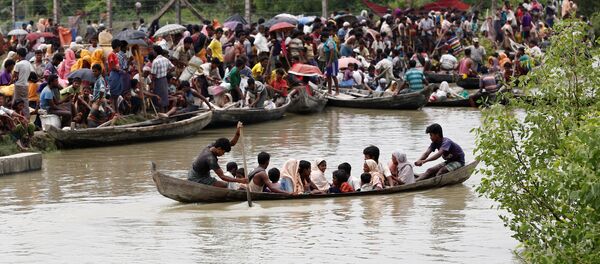 15 September 2017, 12:17 GMT
The exact number of the refugees from Myanmar in Southeast Asia is unknown, a representative of the UN Refugee Agency (The Office of the United Nations High Commissioner for Refugees or UNHCR) told Sputnik.
"An estimated 508,000 refugees from Myanmar's northern Rakhine state have now arrived in Bangladesh's Cox's Bazar as of 25 August … [The] current influx of Rohingya refugees is mainly arriving in Bangladesh … Over the years, there have been reports of Rohingya refugees seeking refuge in the neighbouring countries, such as, Thailand, Malaysia, Indonesia, India and even some in Pakistan. UNHCR, however, cannot confirm the exact number of Rohingyas who may be residing in other parts of the region," Communications Officer Duniya Aslam Khan said.
The UNHCR representative said that the people of Bangladesh have been extremely welcoming toward refugees.
"On ground we have witnessed an extraordinary display of generosity by the people of Bangladesh who are assisting the newly arriving refugees in their personal capacity," Khan said.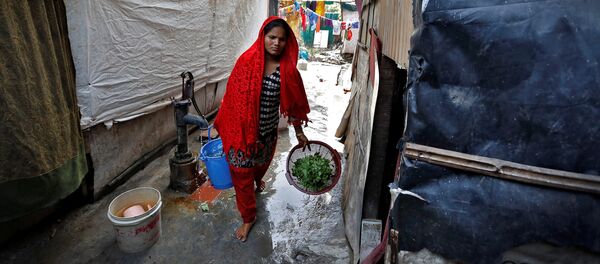 6 September 2017, 20:58 GMT
According to some media reports from last week, Bangladeshi authorities restricted the movement of Rohingya refugees to designated areas and also asked them not to stay with friends or rent from local residents. At the same time, new camps are reportedly being set up.
"We have not heard any new reports of push backs by the Bangladeshi authorities," the UNHCR representative said.
Only Dream to Survive
Dilara, a 35-year-old mother with three children, was shot in the foot by a soldier in Myanmar, before making it to a makeshift camp in Bangladesh.
"They attacked my village … They started burning houses. About 40 of us ran away, and the military shot at us as we ran away," Dilara told Sputnik in an interview facilitated by UNICEF.
She has not seen her husband since fleeing Myanmar and is not sure whether he is dead or alive.
Enamul, a 13-year-old boy, was also shot in Myanmar and is now recuperating in a camp in Bangladesh after having been carried there by his family members.
"The military came to our village and announced to come out of our houses. They started burning the houses on the other side of the village, and when we walked out of our house, they shot me," Enamul said.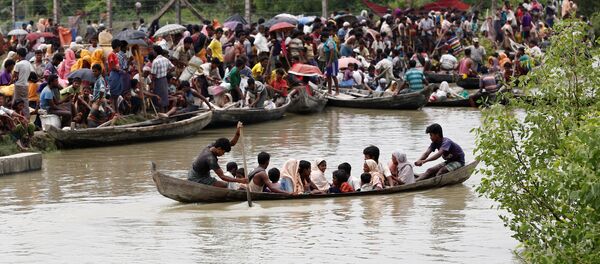 14 September 2017, 09:39 GMT
Most of the boy's family members survived and escaped to Bangladesh, but his brother-in-law was shot dead.
UNICEF Regional Chief of Communication Jean-Jacques Simon met many people with similar stories.
"Yesterday I met two brothers carrying their 73-year-old mother across the border. Two other men carried their 90-year-old grandfather across. I met Mohammad, a 10-year-old boy carrying water cans. The military burned down his house, he said. 'My only dream is to survive,' he told me," Simon said.
Two of Mohammad's brothers were shot and killed by soldiers.
The international community has called on Myanmar's authorities to stop the brutal military campaign and to allow humanitarian access to those who have been affected by the violence.
Myanmar is home to over 100 various ethnic groups, but Rohingya have been effectively denied citizenship since 1982, when the country's Nationality Law was introduced. Historically, the Buddhist majority in the state of Rakhine, bordering Bangladesh, has seen the Rohingya as illegal immigrants, and as outsiders.