MOSCOW (Sputnik) — US State Department spokeswoman Heather Nauert told Sputnik that the department is looking forward to the upcoming meeting between Russian Foreign Minister Sergey Lavrov and US Secretary of State Rex Tillerson.
The US State Department announced earlier that Tillerson and Lavrov will have a meeting on the sidelines of the UN General Assembly in New York on Tuesday.
"5:00 p.m. [21:00 GMT] Secretary Tillerson meets with Russian Foreign Minister Sergey Lavrov, at the Palace Hotel, in New York City," the statement read.
"We look forward to the meeting. This relationship is an important one," spokeswoman Heather Nauert said.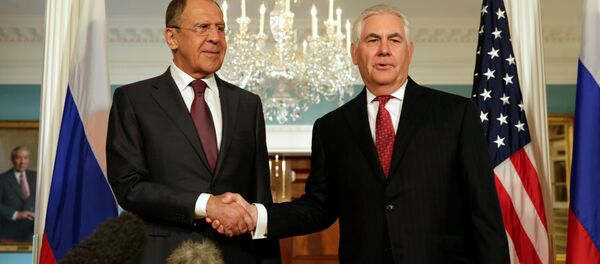 18 September 2017, 05:29 GMT
The meeting will be the second one in three days. Lavrov and Tillerson met late on Sunday in the Russian mission to the United Nations in New York. The officials discussed the situation in
Syria
, the Geneva talks, held under the auspices of the United Nations, and the implementation of the Minsk agreements on the settlement of the Ukrainian conflict.
Lavrov and Tillerson are currently in New York for the 72nd session of the UN General Assembly, which opened on September 12. The annual general debate will begin on Tuesday and run through September 25.