MOSCOW (Sputnik) — "Hardly anybody" in the United States is really concerned about a possible US investigation into the alleged role of Sputnik Radio in the 2016 US presidential vote, the deputy chair of the Russian Duma's Committee on Information Policy told Sputnik on Tuesday.
Earlier in the day, three US Congressmen wrote a letter to the Federal Communications Commission (FCC), in which they called for an investigation into the alleged interference of Sputnik Radio in the 2016 US presidential election. However, Sputnik Radio only went on the air on FM radio eight months after the November vote.
"Firstly, freedom of speech does not exist, especially in the United States. There, the limits of this freedom are determined by the ones who pay for it. And hardly anybody is interested if [the investigation into Sputnik Radio's activities] would be legitimate or not. They have long ago drawn a scenario under which they are cynically acting," Alexander Yushchenko said.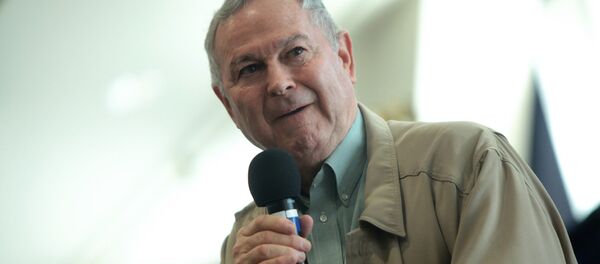 15 September 2017, 22:39 GMT
Moreover, Alexander Brod, the director of the Moscow Bureau for Human Rights and a member of the Council for Civil Society and Human Rights, also commented to Sputnik that the US allegations regarding Sputnik Radio interference in the 2016 US presidential election would impede the work of Russian media in the United States.
"Russian media, Sputnik Radio in particular, are being demonized too much by the US officials… I consider what they are saying now about the Russian media as another unfriendly step aimed at hindering the work of the Russian media, at continuing the anti-Russian hysteria," Brod said.
Meanwhile, the alleged Russia's meddling in the US 2016 presidential vote was made up by some US political forces to "justify their defeat on the politician arena." Russia has repeatedly denied the allegations, insisting that it does not meddle in the internal affairs of other countries. Margarita Simonyan, Editor-in-Chief of Sputnik's and RT,  refuted the allegations as groundless, while Kremlin spokesman Dmitry Peskov called them absurd.