MOSCOW (Sputnik) — Russian President Vladimir Putin congratulated the leader of South Ossetia, a partially recognized state in the South Caucasus, on the occasion of Republic Day holiday, the republic's national holiday, and confirmed Russia's commitment to promoting stability and security in the Caucasus region, the Kremlin press service said Wednesday.
"This holiday symbolizes the determined spirit and heroism of the South Ossetian people, who defended their lawful right to a free and peaceful life," Putin said in a message to President Anatoly Bibilov as quoted by the press service.
Putin also conveyed an appreciation for the active development in the partnership that Russia and South Ossetia have established and reaffirmed Russia's readiness to continue providing the republic with assistance in resolving socioeconomic issues and guaranteeing security in the Caucasus region.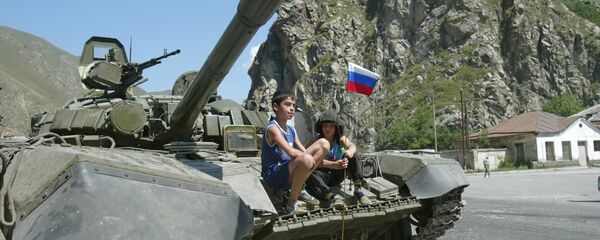 On Wednesday, South Ossetia celebrates the 27th anniversary of the declaration of independence from Georgia.
In August 2008, Georgia launched a military offensive against South Ossetia and partially destroyed its capital. Russia sent troops to South Ossetia in an effort to protect local residents, many of whom had Russian citizenship. After five days of hostilities, Russia managed to expel Georgian troops from the breakaway region. Later that same month, Russia recognized the independence of South Ossetia.