WASHINGTON (Sputnik) — President Donald Trump said on Wednesday that he has made up his mind on whether to scrap the Iran nuclear agreement, but declined to say what his decision was.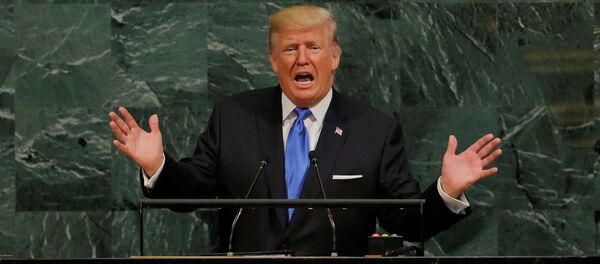 20 September 2017, 09:03 GMT
When asked whether he has made a final decision on the Iran deal, Trump said, "I have decided."
US Ambassador to the UN Nikki Haley noted that Trump's speech at the United Nations General Assembly did not mean that the United States wanted to withdraw from the international nuclear accord with Iran, but rather indicated that he wasn't happy with the agreement.
"It's not a clear signal that he plans to withdraw. What it is a clear signal that he's not happy with the deal," Haley told CBS News in an interview.
Haley earlier on Wednesday told ABC's 'Good Morning America' that Trump firmly believes Iran was violating the accord by carrying out ballistic missile testing and providing support to terrorists.
"What he [Trump] is saying is everybody has to stop tip-toeing around Iran… and acknowledge these harmful things they're doing across the globe and call them out for it," Haley said.
In his first address to the UN General Assembly on Tuesday, Trump called the nuclear accord, known as the Joint Comprehensive Plan of Action, an "embarrassment" and one of the worst deals the United States had ever entered.