Air Force General John Hyten spoke at a Wednesday forum held by the Hudson Institute, a right-wing think tank whose stated goal is to promote "global security, prosperity and freedom." Hyten, whose background is in military engineering and space warfare, said that the United States must "look at [the ICBM] capability of North Korea as a matter of when, not if."
Pyongyang has struggled with the problem of a guidance system that survives orbital re-entry, one of the most challenging aspects of ICBMs. Nuclear warheads are very dense and heavy, and the heat of re-entry can warp the missile and render it totally inaccurate.
But Hyten cautioned that Pyongyang won't be delayed for long. "If you're going down that path, you'll eventually figure it out. You will. So we have to assume, and as commander of Strategic Command I have to assume, that they have the bomb and they will have the capability to deploy it on an ICBM," Hyten said. "And I have to figure out how to respond if asked by the president of the United States."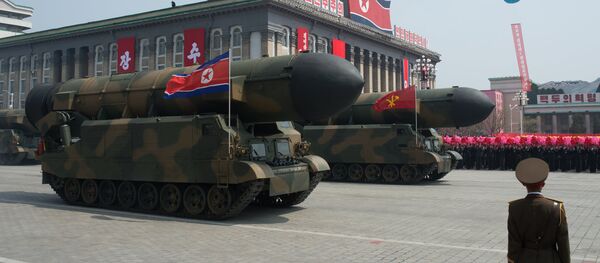 5 September 2017, 04:34 GMT
"If they want to attack the United States with nuclear weapons, it is not going to work out well for North Korea," Hyten said, adding that if such an attack occurred, "the response is going to be overwhelming."
Hyten's statements are nothing new, and echo the comments from numerous other military and administration officials. However, he did aggrandize the Ground-Based Midcourse Defense (GMD), the US' anti-ballistic missile shield. Hyten said he was confident that the $40 billion system could deflect a North Korean ICBM launched at the continental US or Alaska.
"Could it be better? Yes," Hyten said. However, he was "confident today that if something happened, [US Northern Command head, Air Force Gen. Lori Robinson] has the ability with the fielded forces we have to defend against ballistic missile attack by North Korea."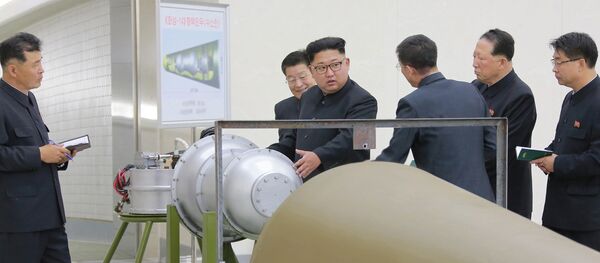 4 September 2017, 06:29 GMT
But "no defense is perfect," he said. Since 1999, the GMD has been tested 19 times and failed nine of them, giving it a success rate of just over 50 percent. Three of the last five tests were failures. 
If a US Pacific holding was targeted, such as Guam or Hawaii, then the US could use a THAAD or Aegis missile defense system instead."US missile defence capability is built to go against North Korea's threat," Hyten said. "Guam is very well protected… We have the good defence as we can build to protect Guam [and] Hawaii." 
In perhaps the most notorious North Korean missile test of 2017, Pyongyang test-launched their Hwasong-14 intercontinental ballistic missile (ICBM) on July 4, American Independence Day. A second Hwasong-14 test occurred at the end of the month. Analysts fretted that the Hwasong-14 could threaten the US mainland: Alaska and Hawaii, Los Angeles, Chicago, perhaps even New York City or Washington, DC.