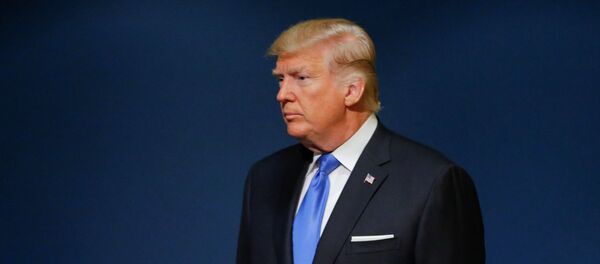 23 September 2017, 22:09 GMT
During a stump speech in Alabama on Friday intended to drum up votes for a Republican politician who supported Trump's globally unpopular withdrawal from the 2016 Paris Climate Accords, the US president wandered off-subject, remarking instead how football players who refuse to stand at attention during the performance of the US national anthem — dropping to one knee instead — should be fired, and fans should walk out of the stadium.
"Get that son of a bitch off the field right now," Trump suggested, in a thinly-veiled reference to free-agent quarterback Colin Kaepernick, declaring that spectators — after plunking down ticket prices, parking fees and doling out many dollars for expensive branded merchandise — should simply "leave the stadium," in response to the peaceful protest actions of a handful of professional football players, according to The Hill.
The reaction to Trump's wandering commentary was quick, unified, and pointed, as players past and present, bosses and other officials uniformly decried the president's remarks using words like "divisive," unacceptable" and a "disgrace," cited by the Huffington Post.
The union that represents National Football League (NFL) players was unequivocal in expressing support for the rights of players to protest peacefully, as the group's chief tweeted that the organization "will never back down" on that right.
Roger Goodell, the commissioner of the NFL, tweeted that "divisive comments like these demonstrate an unfortunate lack of respect" for the game, the organization and the players.
Many noted that Trump appeared to display much less anger toward violent racists than toward Americans exercising their right to free speech.