A group of researchers from the University of Zurich (UZH) have announced the development of a retina-inspired camera that would solve the problem of digital vision in low-light environments or during fast movement.
Currently, drones must rely on conventional cameras that submit entire pictures (frames), and require a enormous amount of light to provide clear images properly. These cameras work perfectly at low speed or when the light is adequate. But should one a camera increase flying speed, the image becomes motion-blurred and is no longer suitable for computer vision algorithms; the same applies for flying in darkness.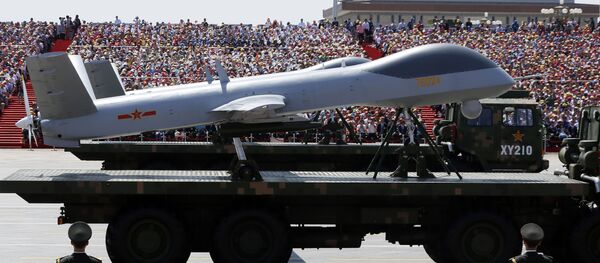 21 September 2017, 00:41 GMT
To solve this issue, researchers developed a camera that submits changes in brightness for each individual pixel, similar to how the human eye functions. That's why humans, for example, can see well even if our head moves quickly. The researchers named their invention Dynamic Vision Sensor, or DVS.
"This research is the first of its kind in the fields of artificial intelligence and robotics, and will soon enable drones to fly autonomously and faster than ever, including in low-light environments," said Professor Davide Scaramuzza, Director of the Robotics and Perception Group at UZH, according to a report by Phys.org.
To demonstrate how the new camera works, the researchers released a video in which a drone flies in circles in a room with a light turning on and off. The picture captured by the cameras is included, complete with dots that represent the computer image-recognition algorithm.
The image, while superior to standard video-capture, is still far from a photo of a real world. Instead, it looks more like a 3D framework, straight out of a  90s-era science fiction movie.
The UZH researchers combined a picture from the new camera — which they call "event" camera — and a traditional photo to achieve the best effect.
This combination seems to be the best for the recognition software to understand what's going on and where the drone is actually moving.
According to the researchers, their DVS-equipped drone with mixed vision can see 130 percent better than a similar system relying exclusively on event data and 85 percent better than a system relying only on standard data.
If perfected, the new vision system is expected to allow drones to go beyond GPS tracking, which functions imperfectly in dense urban environments and doesn't work at all indoors, the researchers say.
"There is still a lot of work to be done before these drones can be deployed in the real world since the event camera used for our research is an early prototype. We have yet to prove that our software also works reliably outdoors," said PhD student Henri Rebecq.
"We think this is achievable, however, and our recent work has already demonstrated that combining a standard camera with an event-based camera improves the accuracy and reliability of the system," Scaramuzza added.