BERLIN (Sputnik) — The AfD is ready to cooperate with The Left Party on the issue of anti-Russian sanctions removal, as this "nonsense" must be stopped, Jorg Meuthen, the co-chairperson of the AfD, told Sputnik Monday.
In Sunday's election, AfD came third with 12.6 percent of votes entering the parliament for the first time with 94 mandates. The Left Party has increased its presence in the Bundestag up to 69 seats from 64.
"We tried to become the third biggest party and we reached this goal. Everything is fine today," Meuthen said, stressing the party would not form alliances with "other kinds of policies" including German Chancellor Angela Merkel's Christian Democratic Union (CDU).
Praising his party's election success, the AfD co-chairperson stressed that AfD and the Left Party have common political goals they could cooperate on.
"The Left party and we want to get rid of these sanctions against Russia. It is ok for us and we would cooperate with every party who stops this nonsense," Meuthen explained.
Merkel's CDU scored 33 per cent of votes, the Social Democratic Party (SPD) received 20.5 per cent, the Free Democratic Party (FDP) is at 10.7 per cent, the Greens scored 8.9 per cent.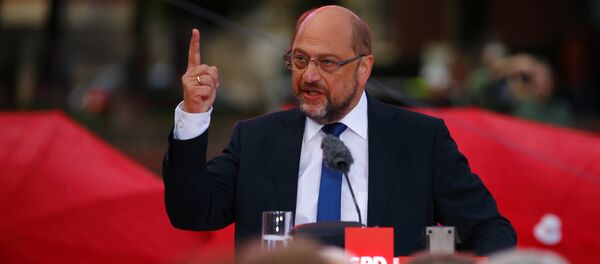 25 September 2017, 08:58 GMT
According to Meuthen, the coalition will likely to consist of the CDU, the Greens, and the FDP, which will be the so-called
Jamaica coalition
and will be the most anti-Russian. Meuthen pointed out that the anti-Russia policies should be reversed, as Germany is "interested in having good relations with every country, Russia as well as the United States."
The AfD party, founded in 2013, has gained popularity since the outbreak of the migrant crisis in 2015. The party has focused on amendments to Germany's refugee policy in its election campaign. The party supports Germany's membership in the European Union but criticizes further European integration and the euro currency.