The multiple warship collisions, including the two most recent and deadly, involving the USS Fitzgerald and USS John S. McCain, have, as they say, caught the US Navy with its pants down, judging by Chief of Naval Operations Admiral John Richardson's responses to Senator John McCain's inquiries about the accidents.
"Many of the issues we're discussing today have been known to Navy leaders for years. How do we explain that, admiral?" the Arizona Republican, chairman of the Armed Services Committee, asked Richardson at a hearing last week, according to a Daily Mail report.
"Senator, there is no explanation," Richardson admitted.
US Navy ships have been involved in four collisions this year already, with the last two less than a month apart — an extraordinary event, according to Peter Roberts, director of military sciences at the Royal United Services Institute.
"It's very, very rare," he said in an interview with the BBC.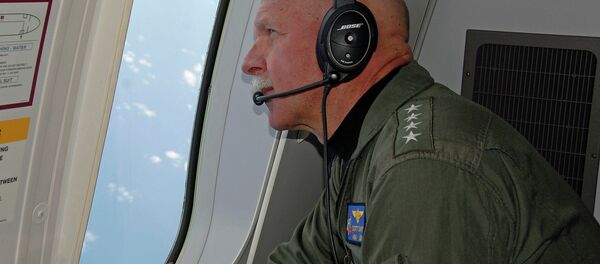 26 September 2017, 21:38 GMT
The Navy is conducting an investigation of the incidents, and the findings so far don't cast the service in a positive light.
For example, a recent finding made by the Transport Safety Investigation Bureau (TSIB), a subsidiary of the Singaporean Ministry of Transport, has revealed that the USS John S. McCain was not transmitting Automatic Identification System (AIS) signals at the time of the crash.
According to various Singaporean media reports, the Maritime and Port Authority's (MPA) Vessel Traffic Information System had both ships on its radar. But the authority says the system only had the AIS signature of the other ship, the Alnic MC tanker.
What that means is that thanks to McCain's cool stealth features, such as radio-absorptive paint and deflective surfaces, the 150-meter long Arleigh-Burke destroyer likely appeared only as a misleadingly small blip on MPA's radar.
"With stealth technology, you can be a huge warship but appear on radar screens as a sampan," an unnamed Singaporean former naval officer told The Straits Times.
During his testimony before the US Congress, Richardson admitted that the US Navy had AIS onboard for years, but rarely used it. Turning on AIS is not mandatory for military ships, as per international treaties.
But when asked if the AIS signals were turned off on the USS John S McCain, US Seventh Fleet public affairs officer Clayton Doss said he could not comment, citing the ongoing investigation, according to Channel News Asia.
Now the US Navy is under pressure to take measures to address the still unrevealed issues causing the crashes, and the measures it is taking vary so widely as to be chaotic.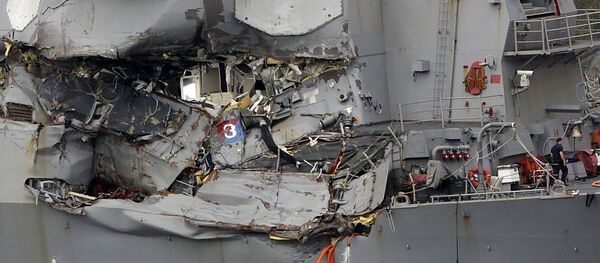 21 September 2017, 21:43 GMT
As Sputnik
reporte
d earlier, US warships are now obliged to turn on AIS in crowded areas.
There is also a report by the Government Accountability Office from May this year that said, among other things, that US sailors are overworked, staying on duty up to 108 hours each week (an average of 15 hours every day).
It was not until the USS McCain's collision, however, that Commander of US Naval Surface Forces Vice Adm. Thomas S. Rowden issued an order to standardize rules for watch teams. According to the New York Times report, "the new rules essentially will adopt studies by the Naval Postgraduate School to develop a shorter watch schedule to match circadian rhythms, which uses three hours of watch duty and nine hours off."
Notably, the Navy ordered its submarine fleet to adopt these studies back in 2015. Why they didn't do the same for the surface fleet? The world wonders, as one WWII US Navy admiral once put it.
Another measure to avoid collisions, ordered by Rowden as well, includes returning to compass and pencil navigation.
In the official wording of Richardson, who testified before the Senate last week, "[the US Navy] took some time to stop, take a break and review our fundamentals, to ensure that we're operating safely and effectively and to correct any areas that required immediate attention."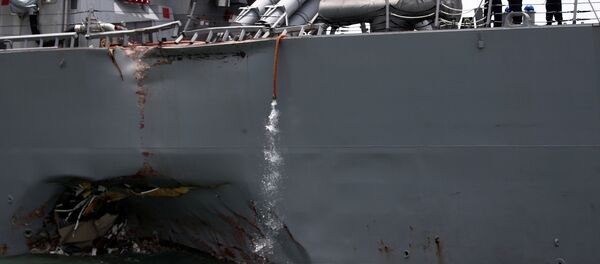 21 August 2017, 15:14 GMT
How does this correspond to the ships' collision, one may ask? According to the Daily Mail, the Navy officials came to the conclusion that sleep-deprived and overworked sailors placed "far too much reliance on automated navigation systems, which has led to careless and costly errors in which lives have been lost."
"At least for the moment, safety and maintenance are on par with operational security, and commanders are requiring sailors to use old-fashioned compasses, pencils and paper to help track potential hazards," the New York Times reads.
No report discloses whether the US Navy is going to employ lookouts to spot commercial ships and and train helmsmen to take evasive maneuvers, though.
Yet still, pale as he was before the Senate, Richardson did not forget to name the Armed Force's favorite mantra: according to Richardson, the Navy's many problems were driven by a "triple whammy": "The corrosive confluence of high operational tempo, inadequate budgets and budget uncertainty."
Apparently, as Sputnik has reported many times, the US Navy thinks it needs more money.