Moscow and Ankara reaffirm their readiness to respect the Astana accords on the zones of de-escalation in Syria, Russian President Vladimir Putin said Thursday after talks with Turkish President Recep Tayyip Erdogan.
"We reaffirmed our readiness to adhere to the final agreements reached in mid-September in Astana at the sixth international meeting on Syria to create four zones of de-escalation, including the largest in the province of Idlib," Putin said at a joint news conference with Erdogan.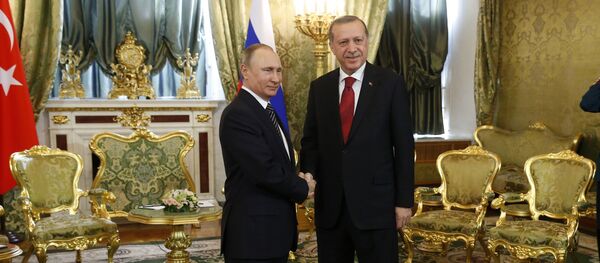 28 September 2017, 07:43 GMT
"I believe these agreements are our mutual, and extremely important success," the Russian president stressed, adding that favorable conditions have been created to stop the fratricide in the war-torn country.
Putin also said that he agreed with Erdogan to continue close contacts through the respective ministries of foreign affairs, military and security services in order to deepen coordination of joint actions to resolve the crisis in Syria.