MOSCOW (Sputnik) — The possibility of Soviet chemical weapons falling into the hands of terrorists has been ruled out, Russian Deputy Industry and Trade Minister Georgy Kalamanov told Sputnik Thursday.
In May, Human Rights Watch published an investigation in which it claimed that the Syrian authorities allegedly used a Soviet-era KhAB-250 bomb, designed specifically to deliver sarin gas, in Khan Sheikhoun town on April 4.
"As for the 'leakage' of Soviet chemical weapons into the hands of third parties, and in particular into the hands of terrorists — Russia has repeatedly claimed that it has never and under no circumstances would transfer its chemical weapons to anyone. This is ruled out for a number of reasons. Firstly, since the accession to the convention, Russia has declared all of its chemical weapons stockpiles, which have been verified and confirmed by the OPCW [Organization for the Prohibition of Chemical Weapons] inspectors and have been under the permanent control of OPCW throughout the destruction process. Secondly, if the slightest hint of a substance of Soviet origin was discovered in Syria, then all world media would have already reported on it," Kalamanov said.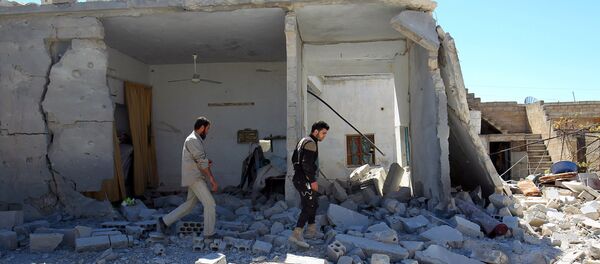 Kalamanov, who is also a deputy chairman of Russia's State Commission on Chemical Disarmament, added that following the incident in Khan Sheikhoun, experts proved it was not an explosion of an air bomb.
On Wednesday, the last kilogram of Russia's 40,000-ton stockpiles of warfare agents, which was contained in two artillery shells, was destroyed at the Kizner facility in the Russian republic of Udmurtia.
In April, the Syrian government faced accusations of a chemical weapons attack on Khan Sheikhoun in Syria's Idlib province. Damascus has refuted the allegations, pointing out that it does not possess any chemical weapons and that the full destruction of its arsenal was confirmed by the OPCW.