ST. PETERSBURG (Sputnik) — On Friday Russian Energy Minister Alexander Novak and former German Chancellor Gerhard Schroeder became new members of the board of directors of Russia's energy giant Rosneft.
At a special meeting of Rosneft shareholders, the number of board directors was increased to 11, with Novak and Schroeder joining nine others.
Schroeder told reporters that he had also been elected the chairman of the board.
In June, shareholders of the oil company elected the new board of directors, with the Russian energy minister not joining in. Rosneft CEO Igor Sechin said that Novak gave up his votes in favor of independent directors. According to Sechin, Rosneft suggested expanding the board from nine to 11 people.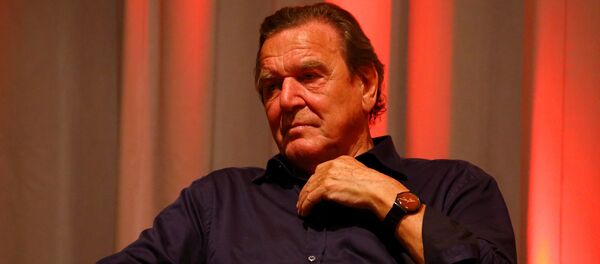 4 September 2017, 00:16 GMT
The directors that retained their membership in the board are Ivan Glasenberg, the chief executive officer of Glencore commodities trader, President for the Research Projects of the Qatar Foundation Faisal Alsuwaidi, Assistant to the Russian president Andrey Belousov, Sechin, President of the BP Group Robert Dudley, member of management divisions of several profit organizations Guillermo Quintero, as well as independent directors: Managing Director of Nord Stream 2 AG Matthias Warnig, Professor of the Finance Department of the Russian State University Higher School of Economics Oleg Viyugin and former top manager of ExxonMobil Donald Humphreys.
Among Rosneft's shareholders as of September 1, 2017 are JSC Rosneftegaz with a 50-percent stake, BP Russian Investments Limited with 19.75 percent and QHG Oil Ventures Pte. Ltd. with 19.5 percent.