WASHINGTON (Sputnik) — The hearings took place within the framework of the investigation of alleged Russian meddling in the US 2016 presidential election repeatedly refuted by the Kremlin as no evidence has been provided as of now.
Earlier in September, Facebook claimed that Russia allegedly bought thousands of advertisements to influence the results of the election. The US Congress, thus, asked Facebook, Twitter and Google to provide any available information about such interference.
The first company that agreed to present its investigations was Twitter, but it turns out that its conclusions could not satisfy the US senators.
Thousands of Accounts Blocked and None of Them of Russian Origin
In a press release issued on Thursday Twitter said it had checked 450 accounts which had been previously mentioned by Facebook and found out that 22 of them had been linked to Twitter accounts, which had been blocked because of violating Twitter's rules mainly concerning its spam policy.
"In addition, from those accounts we found an additional 179 related or linked accounts, and took action on the ones we found to be in violation of our rules. Neither the original accounts shared by Facebook, nor the additional related accounts we identified, were registered as advertisers on Twitter," the press release read.
The company also provided information on the activity of the RT channel on Twitter. According to the press release, RT spent $274,000 on the US advertisement market via its accounts @RT_com, @RT_America and @ActualidadRT, which were used mainly to advertise news stories.
Twitter said it had focused on RT because the US intelligence community accused the broadcaster linked to Russian government of attempts to interfere in the US presidential election in a report in January 2017.
"When we were alerted to Hillary Clinton 'text-to-vote' examples, we proactively tweeted reminders that one cannot vote via text, examined the content reported to us, used our proprietary tools to search for linked accounts that violated our rules, and, after careful review, took action on thousands of Tweets and accounts. We have not found accounts associated with this activity to have obvious Russian origin but some of the accounts appear to have been automated," the statement read further.
The fact that Russian users were not among those who violated Twitter's rules during the elections appears to be most frustrating for US senators.
Frustration Among Senators
After the hearings, behind closed doors, Sen. Mark Warner expressed his disappointment with Twitter's presentation of facts.
"The presentation that the Twitter team made to the Senate Intel staff today was deeply disappointing The notion that their work was basically derivative, based upon accounts that Facebook had identified, showed an enormous lack of understanding from the Twitter team of how serious this issue is, the threat it poses to democratic institutions and again begs many more questions than they offered," Warner told reporters.
His colleague on the committee Adam Schiff said that Facebook and Twitter should investigate alleged Russian interference more thoroughly.
RT's Reaction
RT and Sputnik Editor-in-Chief Margarita Simonyan responded to Twitter's press release mocking the "surprising" information about RT's spending on advertisement and expressing interest in US media spending in Twitters' Russian-speaking region and the targets of these media.
"Twitter has just unveiled horrendous information in Congress – that we've been spending money on our advertising campaigns, just like every media organization in the world. This is forcing us to go a step further and come clean that we also spent money on advertising at airports, in taxis, on billboards, on the Internet, on TV and radio. Our advertisement videos were aired even on CNN. We would not have thought that in a country with developed democracy a simple advertisement might be viewed as suspicious and malicious activity. By the way, similar campaigns are conducted by the American media in the Russian segment of Twitter. It'll be very interesting to find out how much they spend on it, who they target and for what purpose," Simonyan said.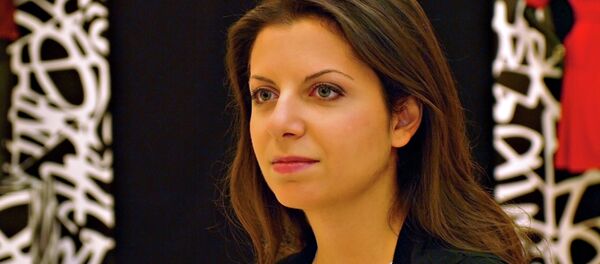 28 September 2017, 23:49 GMT
Over recent months, Sputnik and RT working in the United States have faced pressure over allegations of their role in meddling in the 2016 US presidential election.
Earlier in September, the US Department of Justice asked a RT contractor in the United States to register under Foreign Agents Registration Act (FARA), which might prevent the broadcaster from working in the country.
On Thursday, Russian Foreign Ministry spokeswoman Maria Zakharova said that Moscow would consider retaliatory measures against US-funded media having an audience in Russia if Washington does not end its pressure on RT and Sputnik.