Even though fathers with a bit more life under their belt may at times feel too tired to play with their kids, most of them have increased time and money to devote to their kids.
Makoto Arakaki, a 51-year-old professor at Okinawa Christian University, has to wake up every morning to make breakfast for his 2-year-old daughter and take her to a day care center because his 33-year-old wife leaves home before 7 a.m.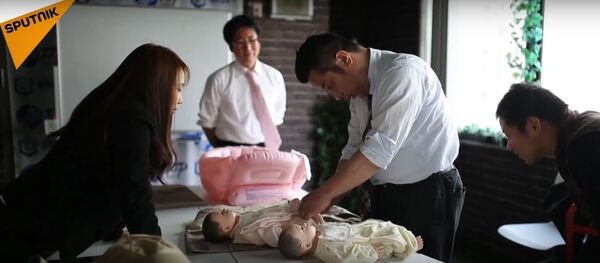 18 October 2016, 06:45 GMT
Besides tiring easily, he also worries whether he will stay in good shape, make enough money to pay for his daughter's education and live long enough to see her get married.
Makoto Arakaki took his time getting married preferring instead to focus on his scientific research, but since his daughter was born two years ago he has been putting her first, not himself.
"When I was young, I had so many things I wanted to do. I couldn't have devoted myself to child-rearing," he told the newspaper. "Now that I have gained some experience, I can give my all to An."
According to Japan's Health, Labor and Welfare Ministry, the average age at which men become fathers keeps rising and in 2015 reached 32.7 years.
In 2015 the number of men in their 50s fathering their first child was 3,357 compared to just 1,121 in 1995. This upward trend also includes first-time fathers in their 60s, with numbers spiking from 95 to 292.
Later marriages are also on the rise with the average age reaching an all-time record of 30.7 for men and 29.0 for women in 2015, The Japan Times wrote.