SIMFEROPOL (Sputnik) — The Ukrainian authorities' lawsuits against Russia over the construction a bridge between Crimea and Russia's Krasnodar will not be able to hinder the historic construction works, Deputy Vice Prime Minister Dmitry Polonsky said Saturday.
On Friday, Ukrainian President Petro Poroshenko gave instructions to sue Russia for causing "environmental damage" as a result of building the bridge to Crimea.
"No lawsuits, no claims, especially from this failed state, are able to stop this historical process," Polonsky said.
According to Polonsky, the current authorities of Ukraine are capable of only giving orders. He noted that the Russian citizens and the country's visitors would enjoy riding through the bridge.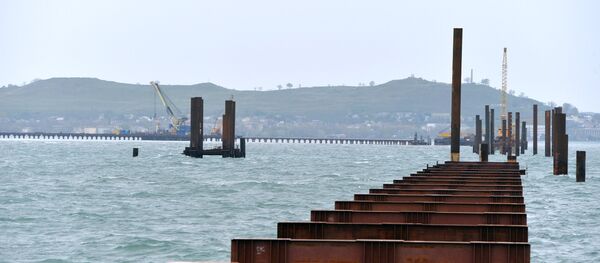 29 September 2017, 16:21 GMT
"The perspectives of this lost cause would not be assessed, I only know that the preparations and possible review of this document will have the pre-action nature and the decision could be predicted even now. But the point is that no matter which actions they would take, the Crimean bridge will be built and will finally connect the Crimean peninsula with Russia's mainland," the deputy prime minister said.
Russian Minister of Natural Resources and Environment Sergei Donskoi slammed Poroshensko's decision to file a lawsuit over alleged environmental damage.
"We are carrying out permanent monitoring during the construction works, and we know that the impact on the ecosystems is minimal," Donskoi said.
Following the reunification of Crimea with Russia in 2014, the issue of transport communications with the peninsula has emerged. The 12-mile-long bridge will connect Crimea with the Krasnodar Territory. Car traffic via the bridge is expected to start in December 2018.
Ukrainian authorities have repeatedly opposed the Russian infrastructure project citing ecological concerns and alleged transformation of the Azov Sea into the Black Sea Gulf.