YUZHNO-SAKHALINSK (Russia), (Sputnik) – In the worst case scenario the RT broadcaster may cease its activities in the United States due to increasing pressure from the country's authorities, RT Editor-in-Chief Margarita Simonyan told the NTV broadcaster on Sunday.
"Under the worst scenario we will leave the US territory, we will not broadcast there anymore. Under the worst scenario, Russia will take the same measures toward the US media. I would not want this scenario to take place because I am a journalist," Simonyan said.
She pointed out that under such a scenario, the broadcaster would continue to use all means of communication with its audience, including the US one.
"In fact they are driving us out of the country, creating conditions, under which we will not be able to work. Here it is, the vaunted freedom of speech. Why are they doing that? Because they believe that we presented another point of view, which had an impact on the result of the [presidential] election," Simonyan said.
In September, the US Department of Justice (DOJ) asked a RT contractor in the United States to register under the Foreign Agents Registration Act (FARA), while in June, US congressmen introduced a Foreign Agents Registration Modernization and Enforcement Act bill. The latter would provide the Justice Department with increased investigative authority to identify and prosecute entities that allegedly seek to unlawfully influence the US political process.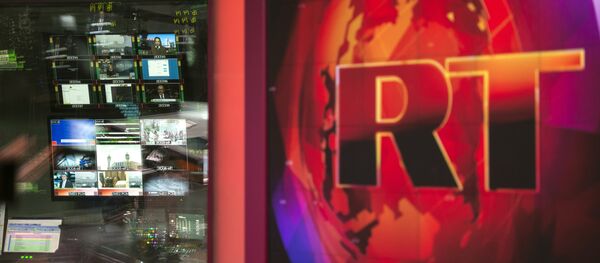 30 September 2017, 02:13 GMT
On September 30, Simonyan called the US authorities' demand to register the RT contractor in the United States as a foreign agent illegitimate.
Russia has faced multiple accusations of alleged interference in the US presidential election by government officials and media, although the claims have not been substantiated. Top Russian officials have repeatedly denied these allegations and stressed that Russia avoids interfering in other states' domestic affairs.
RT and Sputnik news agency have come under intense scrutiny in the United States, with US lawmakers questioning whether RT should have been registered under FARA and, most recently, asking the Federal Communications Commission (FCC) to look into Sputnik Radio.