MINSK (Sputnik) — All Russian servicemen, who took part in the September Zapad-2017 (West) joint drills have left Belarus after the end of the event, Russian Ambassador to Belarus Aleksander Surikov said Monday amid Ukraine's claims.
"There is no one here," Surikov told reporters, while answering the question whether any of the Russian servicemen remained in the neighboring country.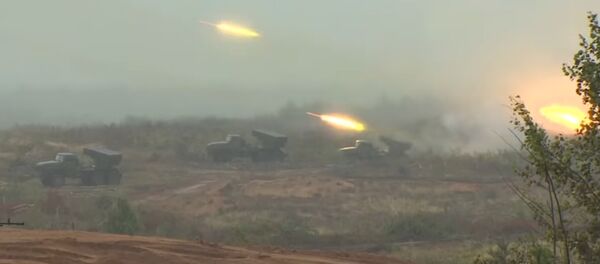 20 September 2017, 13:00 GMT
The ambassador urged all sides to respond to the Russian-Belarusian drills by peaceful means and underlined that the army of any country or a military organization "could not live beyond actions." Moreover, the official stressed that both Moscow and Minsk adequately react to the military drills of other countries near their territories.
"There is no need to fabricate nonsense. It is necessary to be reasonable about what is happening. These are planned exercises, which take place every two years in turn on the territory of Russia and Belarus," Surikov added.
Meanwhile, the Zapad-2017 military maneuvers were held on September 14-20 on the territory of Russia and Belarus. The part of the exercise held on the territory of Belarus and involved about 10,200 servicemen, including about 3,000 from Russia and about 7,000 from Belarus, 370 units of armored vehicles, up to 150 artillery units and multiple launch rocket systems (MLRS), more than 40 aircraft and helicopters. According to the Defense Ministry of Belarus, a total of 98 tanks, 104 armored vehicles, 32 artillery units and MLRS, as well as 27 aircraft and helicopters were used in exercises on the territory of the republic by the Russian side.
The Western states have repeatedly raised concerns with regard to the joint drills, saying that the Russian troops, deployed in Belarus for the joint Zapad-2017 military exercise, may stay in Belarus after drills. The Russian and Belarusian officials have repeatedly refuted the allegations.