MOSCOW (Sputnik) – An Ecuadorean court issued an arrest warrant for country's Vice President Jorge Glas, who is suspected of corruption in relation to the scandal around Brazilian construction firm Odebrecht, the Prosecutor General's Office said.
"Taking into account the arguments provided by the prosecutor … judge Miguel Jurado decided to sentence Jorge Glas and Ricardo Rivera to pre-trial detention," the Public Prosecutor General wrote on its Twitter page on Monday.
Earlier, Ecuador Prosecutor General's Office has demanded pre-trial arrest of the Vice President.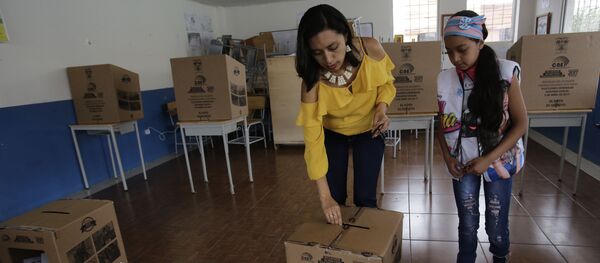 The General Prosecutor's Office demands the court to rule an arrest of the suspect due to "risk of his escape", the statement said. The authority has also demanded to arrest vice president's uncle Ricardo Rivera, who had been under home arrest previously.
Glas said he was going to prove his innocence in the court.
"I will submit to this dishonorable arbitrary decision but I still believe that the justice will prevail and I will prove my innocence," the vice president wrote on his Twitter page.
He also said that the accusations of corruption were unfounded and based on the fabricated evidence. Glas added that he would seek protection in both national and international bodies.
In early August, Ecuadorian President Lenin Moreno issued an order suspending Glas from his duties.
Glas is suspected of receiving bribes from Odebrecht. According to the Prosecutor General's Office, there are many evidence of his guilt, including a voice record of Ecuadorian official's conversation with the Odebrecht representative, during which they discussed the demands for bribes made by Glas.
The probe into Odebrecht has become the biggest corruption scandal in Latin America. The company is accused of paying millions in bribes to politicians to secure lucrative contracts.