As it does on many occasions of violence, Daesh made an effort to claim responsibility for Sunday night's lethal attack. However, America's top domestic law enforcement agency, the FBI, said during a Monday morning press conference that the suspected assailant was not believed to be related to any international terror organizations.  
Daesh's Amaq propaganda agency stated that Paddock was one of its "soldiers" and claimed Paddock had recently converted to Islam.
Senior US officials have discounted these claims, saying there is no evidence connecting Paddock with international terror groups.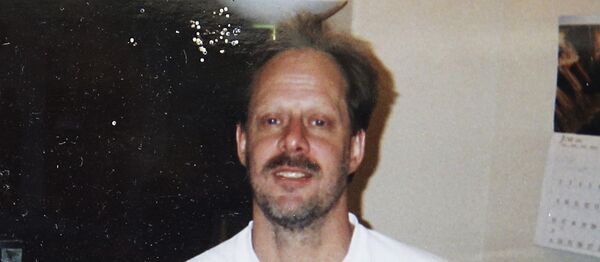 3 October 2017, 19:58 GMT
Speaking with reporters on his way back from Puerto Rico, Trump said he had been "fully updated" on the investigation into the mass murder. "Number one, [Paddock] was a sick and demented person, but I guess we know that without an update," he commented regarding the current status of the investigation.
"We are going to see some of the folks that are recovering, some of the survivors," the president also noted, adding "it's a very horrible thing to even think about."
Paddock killed 59 people on Sunday night as they watched a concert in Las Vegas, and wounded an additional 527. The gunman opened fire on a crowd of 22,000 people from an altitude of 1,200 feet at the Mandalay Bay hotel, where he had rented a suite.