Only a few years ago, Guam had a temporary foreign workforce of more than 1,000 people. But after federal immigration officials started denying most of the requests by Guam businesses to use foreign workers under the H-2B visa program, the number has now dropped to fewer than 100.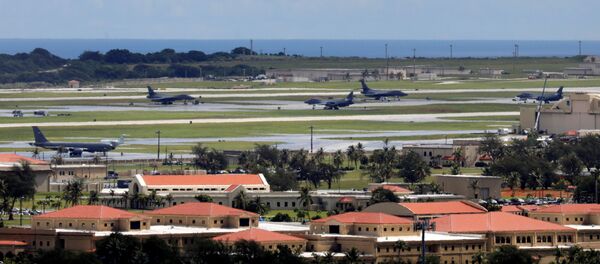 29 August 2017, 20:29 GMT
The shortage has negatively impacted the feasibility and cost of both military and civic construction projects, prompting a group of local companies to file a lawsuit over the denials in 2016.
Calvo said he could no longer support the military buildup and called for a reassessment of its guidelines. He asked the Pentagon to cease construction until the issue is resolved and H-2B visas are approved.
Federal officials started denying visas during the Obama administration and the policy continued into the administration of US President Donald Trump.
"Unfortunately, this H-2B denial, which started with the bureaucrats of the Obama Administration, continues to linger," Calvo said, as cited by the Pacific Daily News.
"In so doing, it is not only hindering our island's economy, but I believe it is risking our island and our nation's security as well."
Although Calvo has appealed to the US Departments of Labor, Defense, Homeland Security and Citizenship and Immigration Services, citing soaring construction costs and fewer project bids caused by foreign labor loss, no resolution has been reached.
"I consider this a clear and present danger to the safety and health of the people of Guam," Calvo said.
The Guam Legislature also passed a resolution last week calling for a pause on the live-fire training range complex to be built on Northwest Field at Andersen Air Force Base.