Speaking to the United Nations General Assembly in September, Japanese Prime Minister Shinzo Abe urged the nations of the world to block Pyongyang's access to any "goods, funds, people and technology" that could assist the North Korean missile program.
"We must make North Korea abandon all nuclear and ballistic missile programs in a complete, verifiable and irreversible manner. What is needed to do that is not dialogue, but pressure," said Abe, stressing a hardline approach of sanctions over diplomacy.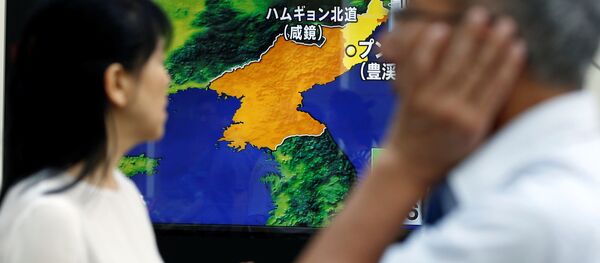 28 September 2017, 06:49 GMT
The Korean Central News Agency (KCNA), the North Korean state media outlet, decried Abe's comments, writing that "such racket" would nothing except incite tension and, ultimately, prove a "suicidal deed that will bring nuclear clouds to the Japanese archipelago."
"No one knows when the touch-and-go situation will lead to a nuclear war, but if so, the Japanese archipelago will be engulfed in flames in a moment. This is too self-evident," KCNA added.
Threatening its rivals is a favorite pastime of KCNA, but menacing Japan with their nuclear arsenal is new for Pyongyang as tensions continue to ramp up in the Korean Peninsula. In both August and September, Pyongyang test-fired their Hwasong-12 intermediate-range ballistic missile over the Japanese archipelago.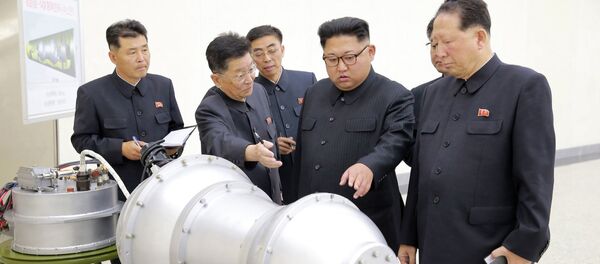 22 September 2017, 09:14 GMT
"The four islands of the archipelago should be sunken into the sea by the nuclear bomb of Juche [the state ideology of North Korea]. Japan is no longer needed to exist near us," said the Korea Asia-Pacific Peace Committee, which administers North Korea's external affairs, in mid-September.
In response to the North's threats, Japanese Defense Minister Itsunori Onodera threw his weight behind the similarly provocative comments of US president Donald Trump. "As part of putting pressure on North Korea, we welcome President Trump's strong language," Ondera told the Financial Times.
Trump has nicknamed North Korean leader Kim Jong-un "Rocket Man" and vowed to "totally destroy North Korea" if it attacks the US or its allies, such as Japan. Kim "is on a suicide mission for himself and for his regime," said Trump during his own UN General Assembly speech.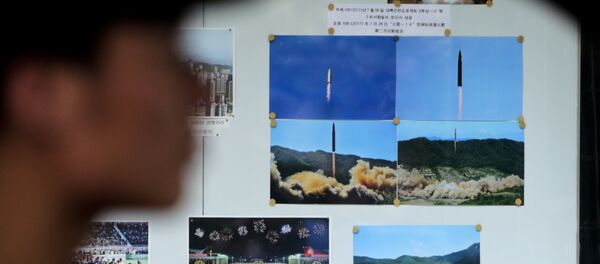 15 September 2017, 08:44 GMT
However, Onodera also said that Japan would not shoot down North Korean missiles unless they threatened Japan or its allies. "Whether it is Japan or any other country, I think that shooting down a ballistic missile could be construed as a military action," said Onodera. "Unless you judge it is an attack on your own country, I think it is difficult to shoot down such missiles."
"The recent missile tests by North Korea passed at high altitude and there was no fear of them falling in our territory or territorial waters so we did not shoot them down."