Voter turnout during the referendum varied across the autonomous region, and over 90% of votes were cast in favor of independence.
Iraq's federal government, as well as all other nations bordering Iraqi Kurdistan, condemned the referendum, and have seemingly increased military cooperation. On Monday, October 2, senior military personnel from Iran and Turkey met in Tehran to discuss and coordinate efforts to address the situation in neighbouring Iraq.
"We held talks on the common threats to the two countries, and also on the referendum in the Iraqi Kurdistan Region with an emphasis on the maintenance of Iraq's integrity and rejection of the referendum," Iranian Major General Mohammad Hossein Baqeri said earlier this week.
As the theoretical Kurdish state crosses into Turkey and Iran, their governments have been alarmed by growing aspirations for Kurdish independence in Iraq, as they fear it could have implications domestically.
Turkey is already engaged in military operations against Kurdish PKK militants, who have been fighting for Kurdish independence in the country since the 1980s, while Iran has battled PJAK forces for over a decade. Both groups are designated terrorist organizations by the US, and the EU.
© AFP 2023 / Safin Hamed
Iranian Kurds hold Kurdish flags as they take part in a gathering to urge people to vote in the independence referendum in the town of Bahirka, north of Arbil, the capital of the autonomous Kurdish region of northern Iraq.
Iranian Kurds hold Kurdish flags as they take part in a gathering to urge people to vote in the independence referendum in the town of Bahirka, north of Arbil, the capital of the autonomous Kurdish region of northern Iraq.
The Kurds have largely benefited from the recent conflict and regional unrest, capitalizing on the mayhem to gain further ground in Iraq, while also forming a de facto autonomous region in northern Syria, known as Rojava.
However, there is now limited scope for the Kurds to make further progress, and the decision by President Masoud Barzani to push ahead with the referendum has united regional powers together, against the Kurds.
The previously mentioned meeting between Iran and Turkey indicates the extent to which Kurdistan is viewed as a threat to the region; two rival nations, who have extensively backed warring proxies in the Syria crisis, are now working together on several fronts to counter Kurdish interests.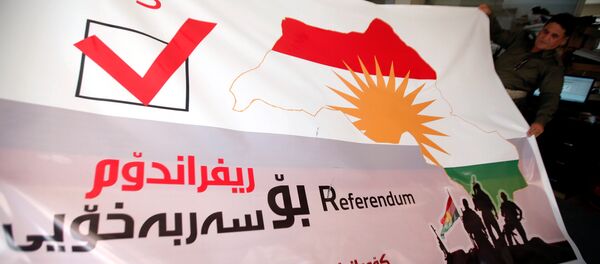 29 September 2017, 20:15 GMT
Given the extent of the growing anti-Kurdish alliance in the Middle East, it's hard to envisage how an independent Kurdish entity in northern Iraq would be able to successfully exist.
Economically, Iraqi Kurdistan would be in a very difficult position, as it doesn't have sea or port access, and is surrounded by unfriendly countries, who have already expressed their readiness to impose a trade embargo if the autonomous region was to break away from Iraq.
Like other oil-rich countries, Iraqi Kurdistan has attempted to monetize its oil reserves to fund diversification in a bid to reduce its reliance on oil and natural gas exports as a source of funding.
However, despite some progress, a large chunk of the KRG's budget is generated by exports in the energy sector.
As most of Iraqi Kurdistan's energy resources are exported to terminals in the Mediterranean via Turkish pipelines, which transport hundreds of thousands of barrels of Kurdish oil daily, the KRG is at risk of losing much of its budget if it decides to continue on its quest for independence. 
28 September 2017, 14:39 GMT
"Our armed forces are on the borders with Iraq to do whatever it takes. We will never allow anyone or anything to go from Turkey to Iraq. This week we will adopt so many other measures. We will close the borders. Nothing will go across the borders. After this let's see through which channels they will send their oil through […] and who they will sell to. The valve is with us. It's finished the moment we close it," President Erdogan warned in September, highlighting Turkey's potential economic and military response to the formation of an independent Kurdish state in Iraq.
Meanwhile, Iran has already embargoed the import and export of fuel products to the autonomous region.
In the prevailing political climate, an independent Kurdish state is likely to experience crippling sanctions, as well as the threat of military action from its neighbors.
Ultimately, the viability of such a state would be contingent on substantial changes to the status quo —  worsening relations between Iraq and its neighbours is almost a necessity for future Kurdish independence from Iraq.
The views expressed in this article are solely those of the author and do not necessarily reflect the official position of Sputnik.      
Follow Suliman Mulhem on Twitter.