A video of airstrikes on positions of terrorists has been released by the Russian Defense Ministry. The footage was published on the ministry's YouTube channel on Tuesday.
The first video clip shows a Russian Aerospace Forces strike on the terrorists' headquarters in Syria.
Another video catches the moment of the terrorists' ammunition depot being destroyed by Russian warplanes.
In a separate footage, Russian military jets obliterate the terrorists' field command post.
The final footage shows the elimination of a terrorist tank by a Russian airstrike.
Earlier in the day, Russian Defense Ministry spokesman Maj. Gen. Igor Konashenkov said that in the past few days, the Russian Aerospace Forces have destroyed 304 Daesh militants and left more than 170 wounded.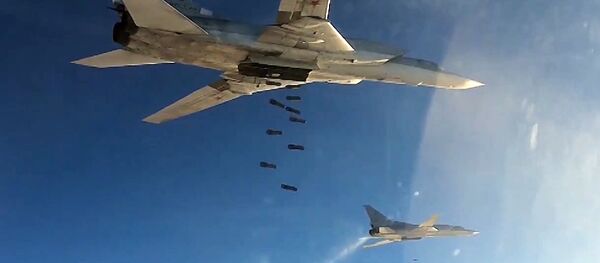 22 September 2017, 11:30 GMT
The airstrikes were launched amid the ongoing offensive against the terrorists on the eastern bank of the Euphrates River near Syria's Deir ez-Zor.
September 30 marked the second anniversary of the beginning of the Russian Aerospace Forces campaign in Syria. Part of the Russian air group in still there, launching strikes on terrorists from Daesh and al-Nusra.