MOSCOW (Sputnik) — Islamists have been cleared from over 91 percent of the Syrian territory, according to figures published Friday in a newspaper affiliated with the Russian Defense Ministry.
An infographic in the Krasnaya Zvezda (Red Star) newspaper has showed that 91.6 percent of the land is now free from the Islamic State terrorist group (Daesh).
During the past week, Russian warplanes have made some 500 sorties, the military said, destroying almost 1,400 Daesh assets.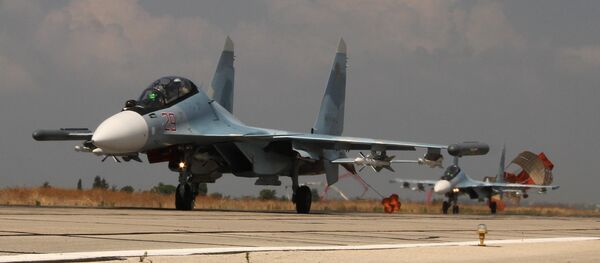 3 October 2017, 07:41 GMT
Russian forces in Syria have also continued scouting Daesh-controlled territories using surveillance drones. They have flown more than 190 missions during that period and identified over 129 Daesh targets.
The war in Syria has been on since 2011. A security vacuum let the Daesh seize large swathes of land and proclaim an Islamic caliphate in the areas under its control. Russia launched a military operation in Syria in September 2015 to provide air support for Syrian government forces, driving Daesh militants from much of Syrian territories.