Russia's Aerospace Forces killed 49 militants, including seven Nusra Front terrorist group leaders, in a precision strike in Syria, Russian Defense Ministry spokesman Maj. Gen. Igor Konashenkov said Thursday.
"As a result of a precision strike by a Su-34 bomber, 49 militants were eliminated, including seven leaders of militant groups of al-Nusra's 'eastern sector'," Konashenkov said.
"The destruction by the Russian Aerospace Forces of Jabhat al-Nusra's command and the coma… of leader Abu Muhammad al-Julani caused confusion among terrorists throughout the province of Idlib," Konashenkov said. The group which formerly called itself Jabhat al-Nusra created Hay'at Tahrir al-Sham (HTS) earlier this year alongside other terrorist organizations in Idlib province. HTS was promptly declared a terrorist organization by the US and UN before gaining control of Idlib during the summer; Russia still refers to the group by its old moniker.
The Ministry reported Wednesday that the Russian combat jets' strike in Syria left Julani with heavy fragmentation wounds and in critical condition.
The Russian Aerospace Forces have destroyed the largest buried arsenal of the Nusra Front in Syria's Idlib province, where terrorists stored more than 1,000 metric tons of ammunition.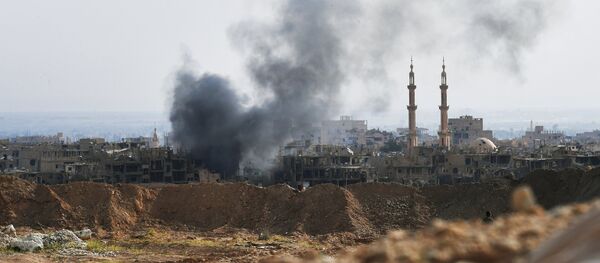 21 August 2017, 02:04 GMT
Russia, along with Iran and local militia forces, has been assisting the Syrian government in its fight against the terrorist groups wreaking havoc in the Arab country since 2011.
Moscow has been conducting an anti-terrorist operation in Syria since September 30, 2015, at the behest of Syrian President Bashar Assad. 
The ongoing war in Syria has left an estimated 220,000 dead and displaced approximately 12 million people (the nation's pre-war population was over 20 million, but most refugees are internally displaced, living in government controlled regions). Many of those who have left the country have poured into nations such as Turkey, Lebanon and Jordan, while others have sought asylum in Europe, making it the largest humanitarian crisis since World War II, according to the United Nations.