Trump bragged about lowering costs as recently as this week for the most expensive weapons program in US history: The F-35 joint strike fighter, a plane Lockheed Martin won contracting rights to produce around 1997.
Speaking on what even conservative estimates put at a $1.5 trillion program during a visit to hurricane-ravaged Puerto Rico October 3, Trump said it is "So amazing that we're ordering hundreds of millions of dollars' worth of new airplanes for the [US] Air Force, especially the F-35."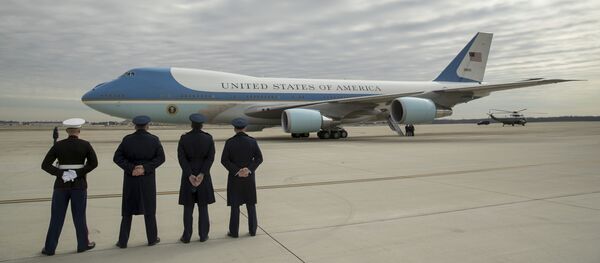 13 September 2017, 20:31 GMT
After asking an Air Force representative what he thought of the new plane ("awesome airplane," he said), Trump alluded again to his supposed savvy negotiating skills: "And as you've probably heard, we cut the price very substantially — something that other administrations would have never done, that I can tell you."
Trump's statement about cutting the joint strike fighter's price couldn't be further from the truth.
'The F-22 with a cupholder'
Popular Mechanics' Kyle Mizokami made an admirable effort to make the math work to validate Trump's January 30 claim that "We cut approximately $600 million off the F-35 fighter." Trump was speaking to the press on the latest tranche of 90 F-35s the government agreed to purchase, known in government-speak as "Low Rate Initial Production 10," a designation referring to the amount of units actually produced, not the cost of a unit. (Previous F-35 deliveries were referred to as LRIP 1, 2, 3, etc.)
Mizokami explained his calculation as follows: "LRIP 10 consists of 90 new airplanes: 76 F-35A models for the U.S. Air Force and allied countries, 12 F-35B vertical-takeoff-and-landing models for the US Marine Corps, and 2 F-35C carrier-borne versions for the US Navy. We know that the previous stage, LRIP 9, priced the F-35A at $102.1 million each, the F-35B at $131.6 million each, and the F-35C at $132.2 million apiece. Using those numbers, LRIP 10 should cost a total of $9.5 billion."

25 September 2017, 23:41 GMT
The journalist continued: "Air Force General Chris Bogdan, who heads the F-35 Joint Program Office, predicted late in 2016 that F-35 prices would drop by '6-7 percent' between LRIP 9 and LRIP 10. It makes sense: The F-35 is gradually becoming cheaper as Lockheed Martin discovers more efficient construction techniques and takes advantages of economies of scale, wherein the manufacturer can negotiate better deals for more materials, labor, and overhead."
Indeed, not only did Bogdan, F-35 program executive officer, predict the 10th tranche of F-35s would be 6 or 7 percent cheaper before Trump ever stepped into the White House, but also a Sputnik report dated January 19 — one day prior to Trump's inauguration — quoted F-35 subcontractor Chemring Group PLC CEO Michael Flowers as saying "From my perspective," reduced program costs were "a given, regardless of Trump."
"This is simply taking credit for what's been in the works for many months," Senator Jack Reed (D-RI) verified to CNBC February 3. "These are savings that would have happened anyway," the ranking Senate Armed Services lawmaker reiterated.
To state the matter simply, the $600 million Trump claimed to have saved was preordained.
And even Trump's claim is "factually challenged," as Bloomberg View's Tobin Harshaw so eloquently described the president's tenuous relationship with the truth. The website www.f-35.com states clearly "Lot 10 reflects a $728 million reduction in total price when compared to Lot 9."
Trump learned to stop hating the F-35 once he stepped into office
Literally any president — Jill Stein, Bernie Sanders, Gary Johnson, Hillary Clinton, Jeb Bush, Ted Cruz, you name it — would have been able to claim a 'negotiated' savings on the F-35, because the president doesn't negotiate particular military programs. There's a reason for that: "When a president ignores the chain of command by going directly to a program manager, it creates chaos in the system," Loren Thompson, a defense consultant, said in February, noting that such actions are "potentially disruptive" and can "unhinge a military organization that depends on order and discipline."
The truth is that Lockheed Martin is only responsible to its shareholders. Company CEO Marilyn Hewson assured Wall Street analysts and investors during the firm's first quarter earnings call: "We will continue our strong emphasis on growth, cash generation and shareholder-friendly actions as our business areas continue to provide products and services that are in great demand by our customers."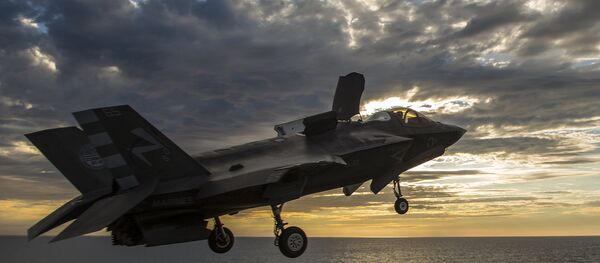 17 February 2017, 00:38 GMT
Speaking on the contractor's F-35 sales line, Hewson remarked that negotiations for LRIP 9, 10, and 11 singularly "improved cash terms that enabled us to increase our cash outlook for the year that you saw in our earnings release." The government — a vague metaphor for the sum total of the US public — was kind enough to make down payments "for all three lots," Hewson said.
Trump brought up the F-35 when talking about former Health and Human Services Secretary Tom Price, who "resigned" last Friday for having racked up at least $1 million in private and military chartered flights around the world on the taxpayer's dime. "I certainly don't like the optics," the president told reporters prior to Price's resignation. "I have a great cabinet, and we save hundreds of millions of dollars through negotiations. I'll give you an example. With the F-35 fighter plane — me, myself — I've saved hundreds of millions of dollars in negotiating. And that's one of the reason I don't like seeing anybody even have a question, you know, about flying."
He can keep saying it. It appears he will keep saying it. It just won't ever make it true.