The Las Vegas gunman who shot 58 people dead and injured over 500 more from his hotel window in Sunday had stored more ammunition and explosives in his car at the time of the attack, police have said.
"What we know is that Stephen Paddock is a man who spent decades acquiring weapons and ammo and living a secret life, much of which will never be fully understood," Clark County Sheriff Joseph Lombardo told a press briefing on Wednesday night.
When police stormed his room at the Mandalay Bay hotel, they found Stephen Paddock had already killed himself. He had 23 weapons in the room as well as cameras fixed on the corridor outside which he used to see if security or police were approaching.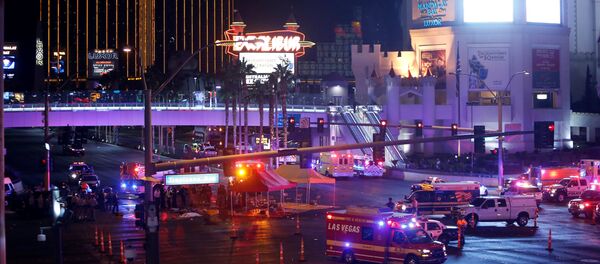 5 October 2017, 17:07 GMT
Paddock had amassed even more weapons and ammunition, which he stored in his car in the hotel parking lot. Police discovered 1,600 rounds of ammunition and 50 pounds of Tannerite, a patented exploding target used for rifle practice, which Paddock could have been preparing to make into an explosive device.
"It remained in the car for some reason," Lombardo said of the explosives and ammunition, adding that there was "well in excess of thousands of rounds still present in the room" when police entered to find Paddock dead from a self-inflicted gunshot wound.
At 10:05pm Sunday evening, Paddock opened fire on 22,000 spectators at the Route 91 Harvest music festival in Las Vegas, Nevada. Paddock continued to spray bullets into the panicked crowd for ten minutes. He was able to rapidly fire rifles after rigging them with bump-fire stocks that make weapons more capable of firing bullets in rapid succession.