A total of 90.18 percent of Catalans (over 2 million people) voted in favor of independence from Spain, according to the official results as all votes have already been counted. At the same time, 7.83 percent (177,547 Catalans) voted against the region's independence. The voter turnout stood at 43.03 percent or over 2.2 million people (a total of 5.3 million have a right to vote in Catalonia). Almost 2 percent of the region's voters' ballots were empty.
On Sunday, Catalonia held the independence referendum, considered to be illegal by Madrid. Spanish officials tried to hamper the vote by confiscating the ballot boxes, shutting down polling stations and preventing voters from casting ballots. The actions of the Spanish police and Civil Guard led to violent clashes with the voters, leaving hundreds injured. However, earlier in the day, a Madrid representative apologized for police violence during the referendum.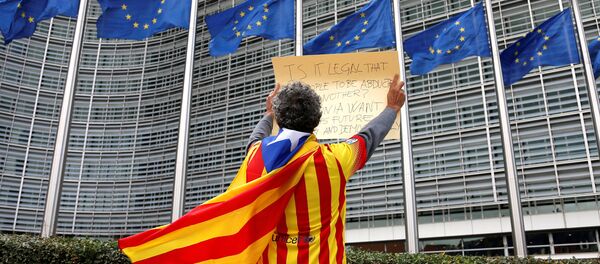 6 October 2017, 13:57 GMT
The head of the Catalan government, Carles Puigdemont, is expected to address the region's parliament on October 10 to speak about the results of the independence referendum and to "to inform about the political situation". Earlier this week, Puigdemont said that the region would officially proclaim its independence in the next few days.