MOSCOW (Sputnik) — Even though Tehran considers the recent independence referendum decision of Erbil's authorities as strategically wrong, it does not blame Iraqi Kurdistan for the mistakes as they share "everlasting" friendly relations with the region, Iranian Foreign Minister Mohammad Javad Zarif said Friday.
"The Islamic Republic of Iran is an everlasting friend of the Iraqi people, including the Kurds of this country, and does not consider the strategic mistakes made by certain individuals as those of the Iraqi Kurdish people," Zarif told reporters on the sidelines of Talabani's funeral procession, as quoted by the Tasnim news agency.
Earlier in the day, Zarif attended the funeral procession of Iraqi Kurdish leader and former Iraqi president Jalal Talabani in Iraqi Kurdistan's city of Sulaymaniyah. Talabani passed away in Germany on Tuesday at the age of 83. He served as the president of Iraq from 2005 to 2014.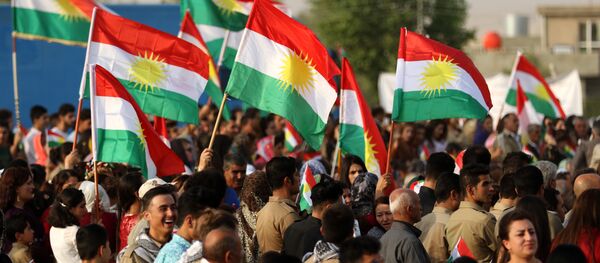 3 October 2017, 17:57 GMT
The foreign minister urged the Kurdish authorities to follow the example of Talabani, who was of Kurdish origin and was considered a symbol of Iraq's unity.
On September 25, more than 90 percent of voters taking part in the referendum in Iraqi Kurdistan backed the region's independence from Baghdad. Iraqi authorities declared the referendum illegal, while Turkey and Iran criticized the referendum amid fears it might strengthen separatist feelings in their own ethnic Kurdish minorities.