The Syrian army has entered the largest Daesh (ISIS, Islamic State, banned in Russia) stronghold in the province of Deir ez-Zor, the town of al-Mayadeen (located 45 kilometers east of the city of Deir ez-Zor), a government forces brigadier general told RIA Novosti.
"The Syrian army entered Mayadeen and gained controls over the market in the west of the city, as well as a citadel… Fierce clashes between the army and Daesh  terrorists are underway in the south of the city," the general said.
He said that the Syrian army provided humanitarian corridors for the exit of civilians from the city. However, terrorists prevent some city residents from leaving the area to use them as a "human shield," the general said.
Meanwhile, Syrian state TV reported earlier in the day that the government forces eliminated a large number of Daesh militants during the al-Mayadeen operation. The troops reportedly destroyed several Daesh weapons depots and a communication hub.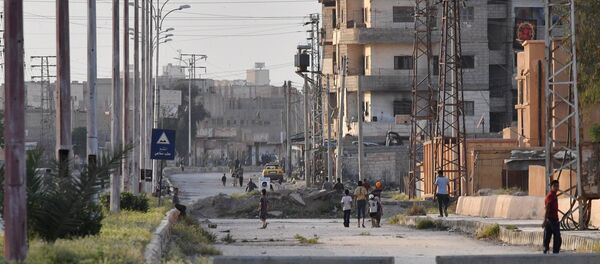 23 September 2017, 12:24 GMT
Daesh terrorists receive weapons, arms and manpower from the Iraqi territory
via the border town of Abu Kamal
, according to SANA, the Syrian state news agency.
From this settlement, Daesh mobile detachments have attempted to counterattack the government forces near Deir ez Zor and the army's positions on the Palmyra-Deir ez Zor highway, which is considered the main way of supplies to the city.
The new offensive of the Syrian army in the province comes a month after the three-year blockade of the city was lifted by government troops with support from the Russian Aerospace Forces on September 5. The operation to clear the city from remaining terrorists is currently underway.