ANKARA (Sputnik) — Ankara is coordinating its actions in the Syrian province of Idlib with Moscow in order to ensure security in the region, Turkish Prime Minister Binali Yildirim said on Sunday.
"We will ensure security in Idlib, and we are working with Russia on this issue," Yildirim said, as quoted by the NTV broadcaster.
On Saturday, Turkish President Recep Tayyip Erdogan announced plans to deploy the country's soldiers to Syria's Idlib, where the Free Syrian Army rebel fighters backed by Ankara have launched an operation.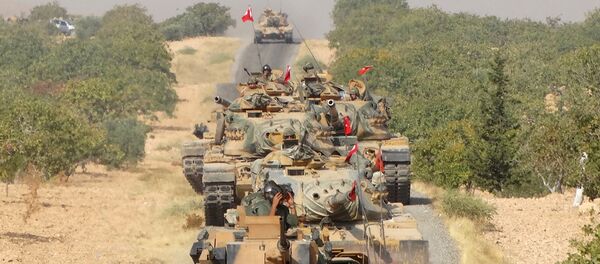 7 October 2017, 11:57 GMT
He also said that Russia has agreed to provide air support to the operation, however, there has been no official comment by the Russian Defense Ministry yet supporting the claim. Nevertheless, Russian Foreign Minister Sergei
Lavrov said
earlier this week that Russia is ready to support armed groups fighting al-Nusra Front in Syria's Idlib de-escalation zone.
Currently, Idlib is mostly controlled by Tahrir al-Sham, a militant group led by al-Nusra Front terrorist group (banned in Russia), al-Qaeda's former Syrian affiliate. The group is not party to the agreement on setting up a de-escalation zone in Idlib agreed upon during the Syrian peace talks in Astana brokered by Russia, Iran and Turkey.