MOSCOW (Sputnik) — Abe dissolved the lower house of the national parliament on September 28 and called for an election to be held on October 22. Hours before Abe's decision to call for an early election was made public, Koike, who became Japan's first female governor after being elected the Governor of Tokyo in 2016, announced her decision to establish a new opposition party, the Party of Hope, to challenge Abe's Liberal Democratic Party in the upcoming election.
However, with official campaigning for the Japanese election set to kick off Tuesday, Koike's Party of Hope has started to lose momentum in public opinion polls, after she decided not to run in the upcoming election as a candidate for a seat in the Japanese parliament.
Zero Chance of Taking Power
Political analysts in Japan suggested that the troubles facing Koike and her Party of Hope showed that Abe's strategy in calling a snap election is paying off.
"The Party of Hope has zero chance of taking power. It is not polling well and the media is scrutinizing her quite critically. This is why Abe called snap elections so soon before she could get organized and prepared. Abe called the snap election to take advantage of the fractured and weak opposition and that has paid off for him," Jeff Kingston, the director of Asian Studies at Temple University's campus in Japan, told Sputnik.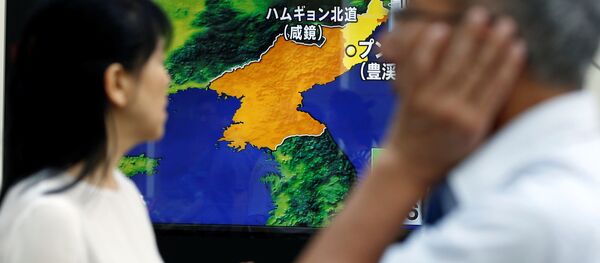 28 September 2017, 06:49 GMT
Thanks to her popularity as the Governor of Tokyo, Koike was initially viewed as having a chance to seriously challenge Abe and his Liberal Democratic Party in the upcoming election, after forming the Party of Hope. But when she announced she would not run as a candidate for a seat in the Japanese parliament in the upcoming election, public support for her new party fell sharply.
In a survey conducted by the Yomiuri newspaper over the weekend, only 13 percent of respondents said they would vote for Koike's Party of Hope, down from 19 percent on the weekend after Abe called for the snap election.
Under Japanese law, only a member of parliament is eligible to be nominated as the Prime Minister. Koike's decision to not run in the election means, even if her new party wins the majority in the upcoming election, she would not have a chance to become the Prime Minister of Japan.
Kingston believes Koike has a long-term strategy and should not take the blame for the troubles facing her new party.
"I don't think she ever intended to run in such short notice but is preparing for the next election. So I don't think Koike can be blamed for this outcome," he said.
Weakened Opposition
Following Koike's decision to form the new Party of Hope, another main opposition party in Japan, the Democratic Party, which holds the largest number of seats in Japan's House of Representatives among opposition parties, decided not to run in the upcoming election, but to allow its members to run as candidates for Koike's party.
By forming a new party right before the election, Koike may have undermined the strength of the overall opposition in Japan, experts told Sputnik.
"As the Party of Hope virtually absorbed the Democratic Party, there are almost no viable opposition parties except for the Communist Party. In this regard, the Party of Hope actually weakened other opposition parties," Yu Uchiyama, a professor at the Graduate School of Arts and Sciences under the University of Tokyo, who specializes in modern Japanese politics, said.
The Japanese scholar suggested that it was possible for the Party of Hope to become the largest opposition party or even join the coalition government with Abe's Liberal Democratic Party.
However, Kingston argued that Koike's strategy regarding the Democratic Party could have hurt her party's image.
"The Democratic Party was a zombie party and it has been put out of its misery. She [Koike] has vetted the Democratic Party's refugees and rejected many because they don't agree with her positions. That has convened a certain amount of arrogance and intolerance that hurts the party's image," he said.
Holding Onto Majority
With the opposition parties in chaos, the only suspense in the upcoming election in Japan is how Abe's Liberal Democratic Party performs in the end results and whether his ruling coalition has a chance of holding onto its current dominance, Kingston suggested.
"The real question is can the Liberal Democratic Party ruling coalition retain its 2/3 majority. If not, it imperils Abe's agenda for constitutional revision. Current polls suggest the Liberal Democratic Party will maintain majority but may lose its 2/3. The risk is voter confusion with two new parties and disinterest, as 70 percent think Abe had no reason to call the elections. If voter participation stays, low it works to the Liberal Democratic Party's advantage," he said.
Despite faltering competition from opposition parties, Abe may not enjoy an easy victory in the upcoming election, professor Uchiyama from the University of Tokyo argued.
"I don't think so. It is possible that the Liberal Democratic Party-Komeito coalition will lose the majority. In that case, Abe might step down. However, some observe that Koike's popularity begins to wither. The political situation in Japan is highly fluid now, so there are very few things that I can say with certainty," he said.
According to the Japanese expert, if the Party of Hope presents a serious challenge to the ruling coalition, it will be possible that Abe may try to win Koike over to his side.