MOSCOW (Sputnik) — Germany's The Greens party is against the compromise reached within Angela Merkel's Christian Democratic Union and Christian Social Union (CDU/CSU) alliance on a cap of refugees arriving in the country, the party's co-chairperson Simone Peter said Monday.
On Sunday, the CDU and the CSU reached a compromise on a maximum allowed number of refugees that the country could accept. The alliance's members adopted a package on migration and agreed that the number of migrants for humanitarian reasons should not exceed 200,000 people per year. 
"It is unacceptable that we become the alliance's toy in the humanitarian issue of asylum seekers. The Greens will not participate in the program of depriving people of civil rights," Peter said commenting on the issue, as quoted by the Zeit newspaper.
She noted that the program contained points that had been repeatedly opposed by her party. Katrin Goring-Eckardt, who chairs the Greens parliamentary group, spoke on the issue less harshly, noting that the compromise between the CDU and CSU was "formal" and required closer review.
"Seehofer has got his 200,000, Merkel has ensured that no one is rejected at the border," she told the SWR broadcaster.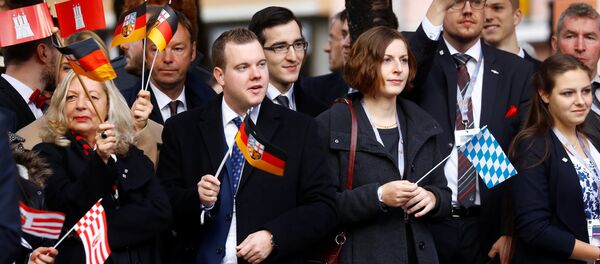 3 October 2017, 10:59 GMT
Seehofer has spoken out against Merkel's approach to refugee policy in the past and has advocated curbing migration. Seehofer has repeatedly stressed that an annual 200,000 cap on arrivals was needed. Merkel, The Greens and liberal parties have opposed these demands.
The statement comes several days after the German chancellor called for talks on forming a coalition with the Greens and the Free Democratic Party.
The issue of implementing a ceiling for refugees is among the most disputed issues in negotiations on forming the new government after the recent election, held in late September. The required majority to elect the German chancellor and for the formation of the government is 355 lawmakers.